Spongebob Squarepants Halloween Costumes for Sale! Compare and Save!
BEST Spongebob Squarepants Halloween Costumes for Sale!
Do you wished you lived in a pineapple under the sea? Well now you can feel like you do with these Spongebob Squarepants Halloween Costumes!  It doesn't matter what age you are, you are never too young or old to buy a Spongebob costume.  My father and my husband both love Spongebob, maybe even more than my kids (true story).  Spongebob is funny and pointless and that's what makes him so entertaining to many of us who don't seek drama on TV.  What kind of Halloween Fun Shoppe would be if we didn't have the most beloved cartoon comedian on our website?
Spongebob Squarepants Halloween Costume Ideas
This page has Spongebob costumes for boys, girls, men, women, toddlers and infants.  Here are some of the most popular Spongebob Squarepants Halloween costumes, there are more all the way down the page.  Chicks dig the yellow square dudes, let me tell you!  Adult Spongebob costumes for women are just as popular as the ones for grown men.
 Spongebob Squarepants Toddler Costume
 SpongeBob Squarepants Child's Costume
 SpongeBob Square Pants Costume
Super Cute Child Spongebob Costume!
This kids Spongebob costume is one of the most popular, it comes with the Spongebob pullover tunic and shoes. What's nice about the tunics is that you can wear your own clothes underneath them. This child Spongebob costume comes in toddler size as well as a child's small and medium.
"Squidward, I used your clarinet to unclog my toilet."
Child

Deluxe

Spongebob Costume – Compare & Save!
This is the deluxe child Spongebob costume is a better quality than the one featured above. It comes in all the same sizes, toddler, small and medium child. With this deluxe child Spongebob costume the quality of the tunic is better. It also includes the tunic and shoe covers.  You can see the stitching on the edges of the Spongebob child costume here are of a much better quality than the one featured above. This child Spongebob costume will last you through a few children for a couple years. I know my kids love to play dress up with their Halloween costumes all year long, so the higher quality one would be a better value for us.
"You don't need a license to drive a sandwich."
 Deluxe Child SpongeBob Costume

 Child's Spongebob Squarepants Costume, Toddler
Awesome Spongebob Toddler Halloween Costume!
The Spongebob costume featured above comes in toddler size as well as small and medium.  It really is the best Spongebob toddler costume and it can be bought from a couple of online retailers.  Here are some of the Spongebob costumes for toddlers that are available from different online retailers – it's always nice to be able to compare and save!
 SpongeBob Squarepants Toddler Costume

 SpongeBob Childrens Costume

 SpongeBob Costume Toddler

Cutest Spongebob Toddler Girls Costume Ever!!
How cute is your little girl going to look in her Spongebob toddler costume? It can be personalized with any name! Every little girl LOVES a tutu!  This design is created on Etsy, it's a high-quality, handmade item. 
If your husband loves Spongebob Squarepants, he's going to love seeing his little girl in this costume.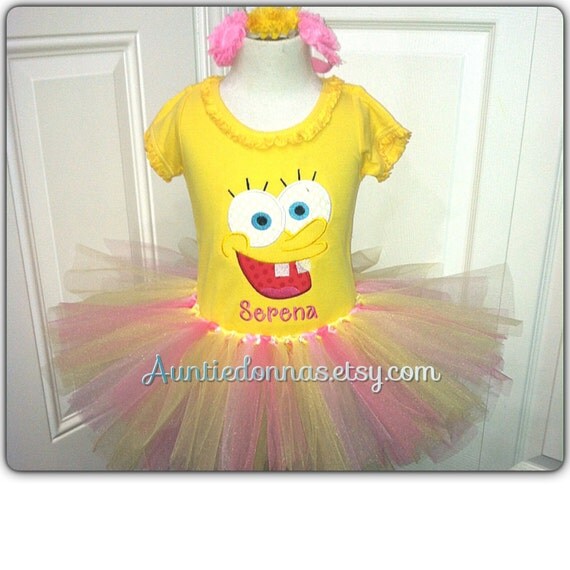 Spongebob Squarepants Tutu Toddler Set

Coolest Spongebob Costume for Tween Girls
I think this Spongebob costume for girls is really cute.  It's made for tweens and teens and it comes with the shirt with Spongebob's face, the skirt and the cute replica Spongebob socks,  A cute pair of black flat shoes and you're all set to wear this costume to school or out trick or treating with friends.
 SpongeBob Girl Teen Costume

 Spongebob Costume Teen Girl
Sexy Spongebob Womens Costume
Dudes dig the SquarePants, ladies!  This costume will be a hit I promise you that!  This one is cute because it's got the shirt with Spongebob face, skirt, and character socks. The socks are my favorite part of the costume because those are definitely Spongebob's socks! The shoes you will have to get on your own, but I like that because you can dress this up or dress it down depending on the shoes.  Some high heel pumps would make this super sexy or just some regular black flats would tone it down just a bit.  It's available from two different retailers online – compare for yourself and SAVE!  
 Sponge Bob Sponge Babe Costume
 SpongeBob Squarepants Sexy Costume

Compare Adult Spongebob Costumes – See for yourself!
Adults love SpongeBob just as much as kids and I find men are more drawn to it than anyone.  It must be the mindless humor of it all that draws us in?  These adult Spongebob costumes are pull over tunics that will fit over just about any clothing.
The Spongebob costume tunic itself is high quality, you can see that by the stitching in the edges. If you want something longer lasting, this is not a one-time use costume.  Hey, who am I to judge how much you wear a Spongebob costume?  Party on!
"Gary, I'm absorbing his blows like I'm made of some sort of spongy material."
 Adult Deluxe Spongebob Costume
 Spongebob Squarepants Deluxe Costume

Spongebob Costumes Adults BEST PRICE!
This Spongebob costume for adults is the cheaper model from the one featured above.  By no means is it a crappy costume, it's just not the best Bikini Bottom has to offer.  If you want something simple, and not as expensive, this Spongebob costume for an adult is perfect.  If you are seriously planning to wear this costume a lot (and no one is judging you here) then you might want the costume featured above.
"You'll never guess what I found in my sock last night! Go ahead, guess!"
Nickelodeon SpongeBob Square Pants Tunic Costume
Funny Spongebob Costume for Men
Here are two more Spongebob costumes for men that you might like!  They are both a little silly and funnier than the other adult SpongeBob costumes and that's why I like them.  I really like the one with his pants down of course (and you can pull them up).  They are both tunic style costumes so they will fit over your regular clothes.
"Squidward, this is great! Just you, me, and this brick wall you built between us."
 Costume Spongebob Squarepants Pants Dropping
 SpongeBob SquarePants Adult Costume
Cutest Baby Spongebob Onesie Ever!
Bust out your camera people because this is the cutest dang baby Spongebob outfit ever! This Spongebob onesie is comfortable, affordable and cute!  If you dressing up this Halloween with the baby or just want something cute to wear, this baby Spongebob outfit is adorable and comfortable.  You're sure to get a lot of of people telling you how cute your baby is wearing this Spongebob onesie.  It's super easy to change your little SpongeBob YuckyPants in this because it has the easy change snaps on the bottom. 😉
"Remember, it's illegal to lick doorknobs on other planets."
SpongeBob: Infant Costume Onesie – 12M
An Infant Spongebob Costume to Make You Go "Aweee"
This infant Spongebob costume is out of this world adorable! If you have an infant and you want a cute, handmade Spongebob costume – Etsy has some of the cutest designs you can imagine.  Not only does this make a cute infant Halloween costume, it works great as a prop for photography sessions.
Adorable Spongebob Baby Girl Costume! OMG!
This cute Spongebob baby girl costume features a handmade design from Etsy.  Etsy is quickly becoming one of the most popular online retailers because of the unique, handmade items that are available.  How cute is this Spongebob baby girl costume?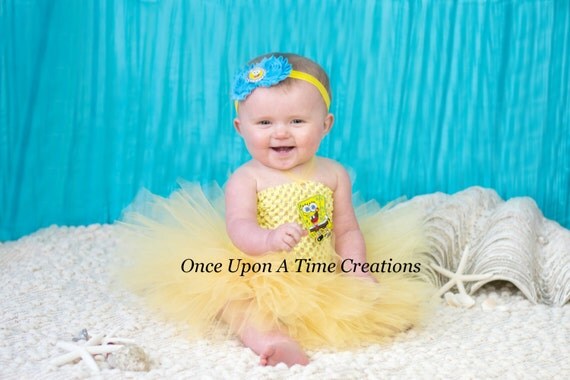 Spongebob Squarepants Tutu Baby Costume

Patrick Spongebob Costumes
SpongeBob absolutely needs his partner in crime and grime!  There are not a lot of Patrick Spongebob costumes and that's too bad because it's a cute idea for couples and twins.  Patrick is almost as funny as Spongebob is and there are a lot more costumes but these were just a few to give you an idea.  This page is about the SquarePants not the pink star but still, nice to know you have some options, right?
"I can't see my forehead"
 Patrick Star Adult Costume
 Spongebob Squarepants Patrick Costume
 SpongeBob Squarepants Girl's Patrick Costume
SpongeBob Halloween Costumes
Video Game & Cartoon Costume Ideas
Here are some of the Halloween Fun Shoppe's top costume ideas for video game lovers and cartoon watchers. Besides the Super Mario Bros, there's also Minecraft and SpongeBob. These are top picks for kids and adults (yes, we said adults). Cartoons and video game costumes are fun for Halloween no matter what age or gender you are!