Sexy Arabian Princess Halloween Costume for Women
Arabian Princess Halloween Costume Ideas
An Arabian princess Halloween costume is one of mystique and allure and its one of the reasons women wear it.  Picture yourself out on one of those warm Arabian nights on a large balcony of a palace overlooking the desert.  That's what I see when I think about when I see myself in an Arabian princess costume, but I have an overactive Halloween imagination.
An Arabian princess costume are totally different from the traditional princess costumes and that's probably what makes them desired by adult women.  An Arabian princess costume doesn't have a crown or a fancy, puffy pink dress.  An adult Arabian princess is more enchanting than your ordinary princess costume, there's something about a woman behind a veil that so seductive.
Blue Arabian Princess Costume Like Jasmine Had
These blue Arabian princess Halloween costumes are exactly what most picture when they think of middle eastern royalty.  The blue Arabian costume is probably the most popular look for ladies because of what Jasmine wears in the Disney classic, Aladdin.
 Blue Arabian Princess Costume
 Arabian Princess Sexy Costume
 Adult Blue Arabian Princess Costume
Arabian Princess Fancy Dress
You could go with an Arabian princess fancy dress look by using a skirt instead of the flared pants or shorter skirt.  There's definitely a lot of beaded bras and belly tops to choose from if you go with something like this.
Gold Beaded Bra Top
Black Face Veil (Standard)
&
Stunning Arabian Princess Dress Skirt
This Arabian princess skirt comes in a variety of colors to choose from.
What's nice about this skirt is that you can add any top you want to it and customize your own princess costume.  Even one of those beaded bras would look phenomenal with this skirt.
The longer skirts give you a fancy Arabian princess dress. The pants that come with some of the costumes just aren't as flattering as these long, flowing skirts.
Beautiful Adult Arabian Princess Costumes
Looking for adult Arabian princess costume?  This multi-colored one is one of my favorites because of the style and look of it.  The necklace that I've chosen would work beautifully with this costume.  The adult Arabian princess belly dancer costume featured here includes top with sheer sleeves, draped pants, and veil.  Adding some gold jewelry would be a nice touch.
 Arabian Princess Belly Dancer Costume
 Geometric Rhombus Brilliant Necklace
Sexy Arabian Harem Princess Halloween Costume
Heathen kings in ancient times had princesses in their harem.  They had sexy wives, concubines, and female servants at their beck and call continually. You can imagine that the king would have only the most beautiful princess in his harem.  Oh to be invited to a harem kings party!  The women would be dressed in a similar fashion to these women here – size was of no matter, larger, voluptuous women make sexy harem princesses too.  Here you will find one standard size and one plus size costume.
 Womens Sexy Harem Arabian Princess Costume
 Plus-Size Womens Sexy Harem Arabian Princess Costume
Arabian Princess Skirt, Top and Veil
There are lots of Arabian princess skirts that are absolutely beautiful.  There are a ton of colors to choose from when it comes to these skirts, tops and veils so you could literally piece your own Arabian princess costume together.
 Sheer Chiffon Skirt with Gold Coin
 Gold / Black Sheer Chiffon Top
 Black / Gold Arabian Girl Veil
Sexy Arabian Princess Belly Dancer Costume
This is my favorite Arabian princess belly dancer costume because I love the purple and pink in the skirt.  The gold tassels really complete the whole outfit.  This would really look sexy with a pair of gold strappy heals.  Be sure check out the head pieces right below this costume because they are perfect for an Arabian princess or belly dancer costume.
Womens Harem Arabian Princess Costume
Arabian Princess Costume Headpieces
These headpieces are exactly what I think of when I think of a middle eastern princess. Look how they sparkle and shine.  These would be the perfect headpieces to wear with your Arabian princess costume because they look so authentic.  Once you see these, you won't be able to have a costume without them – they are that beautiful.  Imagine your hair up and some dark liner around your eyes … you can't possibly be an Arabian princess without these.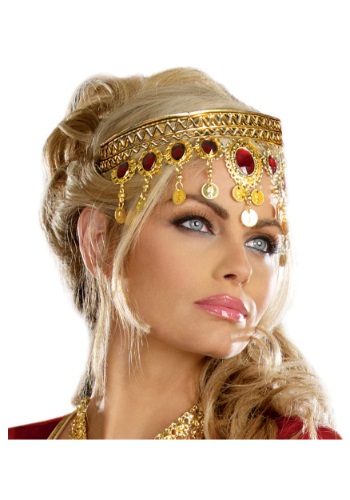 Dripping Rubies Headpiece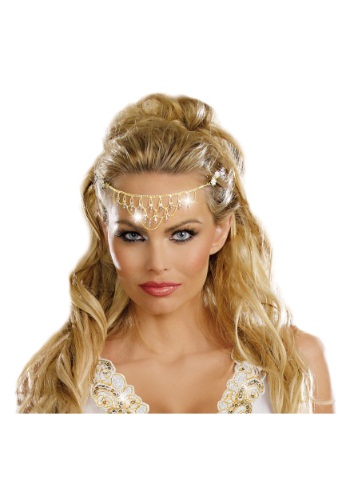 Glittering Rhinestone Headpiece

Blue Sexy Arabian Princess Costume
Does this qualify as a costume? I'm not sure but it sure is a sexy Arabian princess costume if it is one.  I can't see anyone being able to resist a woman who wears this.  This blue Arabian sexy girl costume comes with the headband, sheer top, sheer bottoms and g-string panties.
Blue Sexy Harem Arabian Princess Costume
Sexy, Sultry Red Arabian Princess Costume
This red Arabian princess adult costume is one of the most popular in this color. I'm a bit biased and I love red and think it's a super sexy, sultry color to wear. This costume would look so good with a pair of gold strappy heels and some gold hoop earrings.
Beautiful Arabian Princess Style Costumes Women
A lot of these costumes that say belly dancer, genie or harem girl and are all Arabian style costumes for women.  Any one of these could be used as a beautiful Arabian princess costume because a genie, belly dancer and harem girl are all of middle eastern decent – the costume would work for any of these and you can add jewelry and other accessories to really complete the look.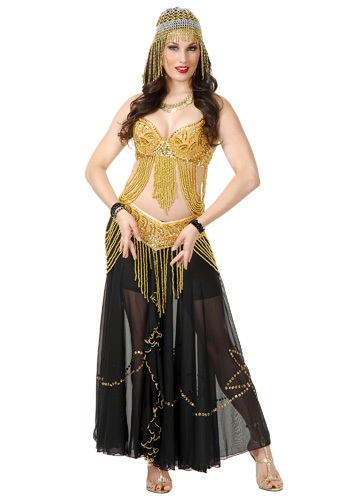 Golden Arabian Princess Costume

Rubie's Arabian Princess Costume
&
Arabian Harem Slave Princess Body Jewelry
Who needs a costume with this Arabian Harem girl body jewelry? This is a look that could wrap any heathen king around your finger.  Add a veil… boom you're a princess!
Sexy Purple Arabian Womens Costume
Looking to unveil a little more with your Arabian princess Halloween costume?  This purple and gold sexy harem womens costume comes with the face veil, sheer top, sheer skirt bottom, g-string and gold headpiece.  Add some sexy gold strappy heels and you'll have every heathen king in the middle east bowing down to you and begging you to be in their harem.
Arabian Princess Fancy Dress Costume
Blue Arabian Princess Costume like Jasmine
This blue Arabian princess costume is really pretty and it looks like the one that Jasmine wore. Most people think of Jasmine from Aladdin when they think of an Arabian Princess costume and that's a really good comparison. This blue Arabian princess costume comes with the pants, top and headpiece.  This is a more classy look if you don't want to be over-sexy.  If you have long, thick, dark-colored hair then you will not need a wig – you can just pull your hair to the side in a similar fashion to this here…
Traditional Arabian Princess Wigs – Eat Your Heart Out Sultan! 
If you don't have thick, long hair, you could always go with a wig.  Here are some wigs that would work perfectly with this sort of costume.  They are all similar to the style of hair that Jasmine had in the movie Aladdin.
 Cosplay Arabian Princess Hair Wig
 Women's Arabian Beauty Wig
 Black Hair Jasmine Wig
Arabian Princess Hairstyles
Pull Your Hair Up in Bun or Ponytail
An Arabian princess has a lot of hair, usually a darker color but it's okay if you're blonde too but don't be surprised if people think you are a genie instead of an Arabian princess.  Most people associate blonde hair and an Arabian costume as a genie – like the one from I dream of Jeannie.
The best way to wear your hair is pulled up or back. You could pull it back in a pony tail or in a bun – it's a beautiful look when you have an Arabian princess veil on.  It gives that mysterious allure whether you are blonde or brunette.
Wear Your Hair to the Side
Another way to wear it is off to the side.  You could do a braid or you could just do several rubber bands a few inches apart to give it the puffed look Jasmine had in the Disney movie.
Jasmine has the most distinct Arabian princess hair because she had that thick, black hair with those dark brown eyes of hers.  Jasmine is the quintessential Arabian princess, daughter of the Sultan.
A braid to the side looks very beautiful with darker hair and you could wear the headpiece, headband and veil with it to make it a transitional Arabian princess hairstyle.
Most Arabian women have darker hair, you could always go with a wig if you want to have your hair already done for you.  There are a lot of black Arabian princess wigs to choose from if you want to do something easy.
Stunning Arabian Women Eye Make-Up
Arabian women are very beautiful, they have the most seductive, dark brown eyes. There are a lot of sexy eye make-up tutorials on YouTube for Arab women eye make-up.  Featured image from PhotoStock.
More Sexy Women Costume Ideas
Looking for something sexy and sultry in a Halloween costume?  Here are some more sexy women costume ideas for you to choose from.  I dream of Jeannie is right up the alley of Arabian Princesses because they wear something very similar.  German women are always a sexy choice and then there's the famous blonde bombshell, Olivia Newton John.  Get your sexy on here at the Halloween Fun Shoppe by browsing our costume selection for sexy women.