Scary Spiders Halloween Decorations
Scary Spiders Halloween Decorations
If you are afraid of giant scary spiders you might be frightened by the contents of this page. Remember, I warned you. But if you love giant scary spiders when decorating for Halloween, you will be really happy you landed here.
To me spiders are pretty scary even when they are small, and when Halloween comes around and people start decorating with those giant scary spiders and spider webs I really don't want to go near those houses.
What if one of those is real? Ick. I don't know why but spiders really frighten me. I guess I'm not alone, as psychologists even have a name for fear of spiders: Arachnophobia.
So just to scare all of us arachnophobics, the Halloween decorating manufacturers have come out with even more huge scary spiders. Yikes, I may have to leave the country and visit someplace that doesn't celebrate Halloween!
But there must be people who love spiders as there are lots of them. Either that or they are actually sadistic. Here is a selection of them for your Halloween decorating pleasure.
If you're in a hurry to get to the Scary Spiders for Halloween, click  here.
Scary Spider Window Shades for Halloween Decorating, available later down the page, from Amazon.
Scary Spiders for Halloween Decorating!
According to Greek mythology, there was a girl in Ancient Greece
named Arachne who was famous for her weaving skills. But the
goddess Athena became jealous of Arachne. So out of spite,
she turned Arachne into a spider.
Thus, the name arachnid was born.
Scary Spiders for Halloween
Big Spiders Halloween
Oh my goodness, I could not go near a house that had this spider! It's too scary! The manufacturer says this: This 50″ spider has fantastic furry fabric that makes it appear life-like and creepy. Bend its legs to mount him over doors and stairs for a great surprise effect. Hang from an elastic cord and he'll bounce for a fun, fun, fun and freaky effect. Everyone is concerned about promoting a safe and fun Halloween. Halloween parties with adult supervision provide a safe environmental for all children and a fun alternative to trick or treating. Rubie's Costume Co., Inc. is committed to offering you a complete party experience with this in mind. From games to decoration to party goods… your children's safety and entertainment is our goal.
 Rubies Costume Halloween Home Decoration 50
Giant Spiders Halloween Decorations
Scary Spider Halloween Decor
Really huge poseable spiders to scare everyone.
Poseable, creepy, scary!
 Black Posable Spider with Light and Sound
 Seasons 50 Super Scary Spider
Scary Creepy Spider!
Scary Spider Halloween Decorations
Click here for the Huge Creepy Scary Spider wall decal Halloween decoration. This one looks just too realistic. I would run from this!  I'm running now, in fact. This wall decal will scare everyone, not just me!  Great for Halloween! Peel and stick and easily removable after the holiday!
 Mexican Redknee Tarantula on White Peel and Stick Fabric Wall Sticker by Wallmonkeys Wall Decals
Scary Spiders for Halloween
Giant Spider Halloween Decor
Too realistic for me! I can barely type next to it! Manufacturer says: Makes a Halloween decoration Prop includes soft furry brown body and light-up   red eyes Measures roughly 60″ across Each leg measures roughly 27″ long Requires 2 AA batteries (not included)
 Scary Large Brown Tarantula Halloween Prop
There are now about 35,000 named species
of spiders worldwide. This includes
about 3,000 species in North America.
The Scariest Spider on this Page
Animated Spider That Drops Down on You from the Doorway!
Now this is just evil. If this scary creepy spider fell on me I would have an anxiety attack and run away screaming! Horrible. It's sound and motion activated so it will drop down on the poor unsuspecting victim. You must be sadistic if you plan on buying it!
 Gemmy Dropping Spider Green
Scary Spider Postage!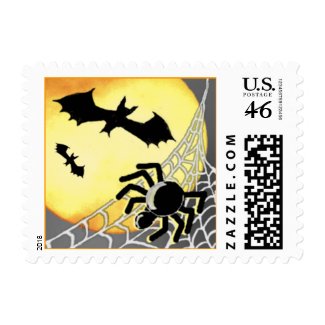 Spider Webs
Giant Spider Halloween Decor
Just as scary and creepy as spiders, spider webs. I hate it when I walk through one! The manufacturer says: Spider web covers over 300 square feet and glows in the dark when exposed to black light Spider web also includes four fake spiders.
 Green Halloween Glow-In-The-Dark Spider Web
Huge Scary Spider Web!
Giant Spider Halloween Decor
Big scary, creepy Spider Web for you spider lovers.
The manufacturer says this: JUMBO 20 Ft. HALLOWEEN SPIDER WEB! Made of Soft Chenille Terylene cloth to simulate spider webs! Great for decorating your Halloween haunted house! Add a Giant 50 Inch Spider!
 Mega Spider Web (Standard)
Black Gothic Spider Web and Spiders
Giant Spiders Halloween Decorations
Scary Spider Halloween Decor! Scary and creepy enough to cause a heart attack!
 Giant Spider Web and Giant Spiders Halloween Decoration
The biggest known spider web is so large even Shaq could not
escape it. Orb weaver spiders in the tropics are known to spin
webs larger than 18 feet across!
Scary  Spider for the Bathroom
For a Spider Themed Halloween Party
Oh my gosh, can you imagine if you put this in your hall bathroom and one of your guests is afraid of spiders? Better have the phone number of your local ambulance ready just in case.
From the manufacturer: Toilet Tattoo is a removable, reusable, decorative applique for the toilet lid. This patent pending product is the modern way to embellish your commode. In seconds you can transform the look of your lid, simply peel from backer card, place and smooth. Made in the USA from electrostatic vinyl film, it will not harm your lid and wipes clean; No adhesives means you can use them again and again. Available to fit round and elongated toilets; round (actual size 12-inch X 13.5-inch) and elongated (12- inch X 15-inch). Made for use on standard smooth toilet seats. Not for use on soft cushion seats or brown wooden seats. May need to apply by using water for some plastic lids. Toilet Tattoos are the only way to crown your throne.
 Toilet Tattoos TT-H700-R Spider Web Design, Round
Another Scary Spider Bathroom Topper
They Say Peel 'n Place, I Say Pee 'n Place!
If you had to pee really bad and you saw this, do you think your pants would be ok? Or would the toilet now be superfluous? Hmm, maybe it should be called Pee 'n Place?
The manufacturer says: Bring Your Bathroom To Life! Adheres to most smooth surfaces without the use of adhesive Easy To Use Remove and Reuse Not recommended for use on floors.
 Spider Toilet Topper Peel 'N Place Party Accessory (1 count) (1/Sh)
Scary Spider Stamp
Perfect for a Bill Collector, or To Send to An Ex
Scary Spider Window Shade
Giant Spider Halloween Decoration
 Black Widow Translucent Decorations
Daddy Long-Legs are not Spiders, Who Knew?
Sometimes thought to be spiders,
Daddy Long-legs are not spiders!
Giant Scary Spider Shirt
Love the Scary Spider Halloween Decorations?
Scare Others! Show them the Scary Spiders!
Still looking for Scary Spiders? Click here.
Happy Halloween!