Olivia Newton John Costumes – You're the One that I Want!
Olivia Newton John Halloween Costumes
There are basically two types of Olivia Newton John costumes to pick from – 1950's Grease version or the 1980's Let's Get Physical style.  This page is loaded with ideas to pull off either look!  Olivia Newton John is one of the most iconic 1980's blonde bombshells.  If you want a memorable Halloween costume for women, you can't go wrong with Olivia.  There are so many ways to dress as Sandy from Grease if you want that fifties look.  I think the Let's Get Physical eighties style would be more my pick but either way, this page is loaded with ideas for you ladies!
Sandy Grease Costumes
Looking for Olivia Newton John costumes for Halloween or maybe a 50's party?  Grease is the most iconic movie of all time when it comes to the 1950's high school scene.  If you're thinking of dressing as the main characters, there are a few different options for Olivia Newton John costumes.
She wore a few different memorable outfits that turned a lot of heads in the movie and she also wore some more down-to-earth traditional good girl outfits too.
"You're the one that I want"
Bad Sandy Jacket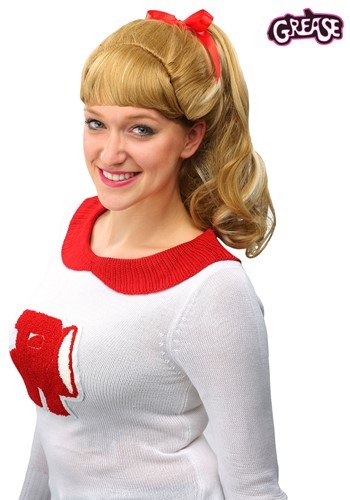 Grease Good Sandy Wig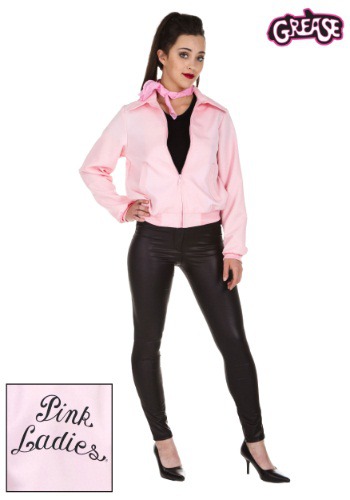 Adult Deluxe Pink Ladies Jacket

&
---
Olivia Newton John Costume Variations You Could Do:
White dress with collar, white belt and yellow cardigan sweater in beginning of the movie (hair is half up and half down)
Cheer-leading uniform with red skirt, white sweater with red collar at the football game (her hair is in a ponytail).
White sleeveless dress she wore to the dance (hair is half-up and half-down)
Blue dress with a white collar at the drive-in (her hair was in a pony tail)
Pink dress at the drag races (with her hair in a pony tail)
Black spandex in the finale (with her curly, sexy hair)
In addition to these outfits, she also attended a slumber party in the movie where she wore a white nightgown, but I'm sure no one wants to wear that as their Halloween costume.  Below are some great options for your Olivia Newton John costumes this Halloween ladies.
Black Spandex Sandy Grease Outfit
Sleeveless Off-the-Shoulder Blouse
Liquid Black Spandex Pants
50's Adult 3″ Elastic Cinch Belt
There's the infamous tight black spandex outfit from the final scene that would be considered the most memorable if you're looking for something on the sexier side.  Olivia Newton John wore some very tight, hip-hugging black spandex pants in the final scene of the movie.  She wore an off-the-shoulder tight black top that tucked into the back pants and held together with a thick black spandex belt with a shiny buckle.
The most important thing about Sandy in this scene is her tight black spandex.  She had the shiny kind of spandex that has the wet-look to it.  She also wore some open toe red high-heels that also had that slick, wet-look to them.
Another important feature to think about was her make-up!  Sandy had very distinct make-up in this scene of the movie.  She had black eyeliner on and mascara and some red lipstick.  She went total greaser chick with her make-up in this final scene.   A lot of folks refer to this has her "Bad Sandy" personality. (movie poster)
Create Your Own 1950's Sandy Grease Costume
Vintage 50's White Lace Dress
Short Length Yellow Knit Cardigan
Open-Toe Buckle Strap Heels
Sandy's sweet, good-girl demeanor in the movie was captured in her outfits that she wore.  Even her hair was kept in a more sweetheart fashion with the half-up and half-down style of it.  The way Sandy's hair flipped outward was also very symbolic of the 1950's style.
You could buy your own vintage style dress and recreate a Sandy costume from the sweeter side of her in the movie. This combo here would be a good Olivia Newton John costume look if you wanted the more traditional, good-girl look. (movie poster)
Olivia Newton John Grease Costume from Finale
In the finale of the movie, Sandy wore an all black outfit. She had tight black pants, an off the shoulder black top, red heels and a black leather jacket. You can really complete the look by lighting up a cigarette if you want too and saying something like…
"Tell me about it, Stud!"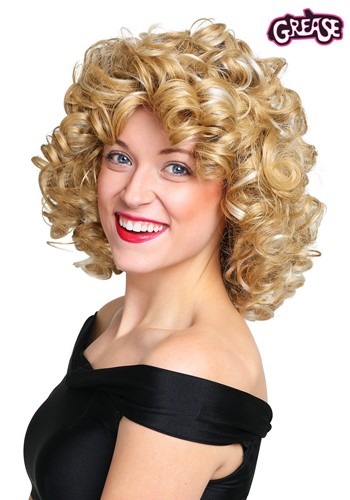 Women's Grease Bad Sandy Wig

Bad Sandy Jacket

&
Sand's Off the Shoulder Black Top from Grease Finale
Allegra K Women Slim Fit Off the Shoulder Top Black M
Sandy wore an off the shoulder black top like this one in the movie during the finale. Her infamous black outfit with the tight black pants, leather jacket, red heels and off the shoulder top like this one is probably the most popular scene in the whole movie.
If you're going to dress up as Sandy in Grease from the finale of the movie, you absolutely have to have a top like this one here to go with it. There are other off the shoulder black tops similar to this one too. To stay true to the movie, you have to get an off the shoulder black top with short sleeves or no sleeves.
&
&
Red-Open Toe High Heels – Sandy's Grease Shoes
Sandy's shoes in the finale scene were open-toed red high heel shoes.  They really made the entire outfit that much more of a head turner.  Shoes like these are hard to walk in so make sure you get lots of practice before you head off to the sock hop with Danny in these.
Madden Girl Women's Pump Heel
Women's Evening High Heels Red
&
Olivia Newton John Fancy Dress Costume
Sandy had a cute little number like this on in the beginning of the movie when she first arrived at Rydell High.  You could easily replicate this look with a yellow cardigan, white blouse and yellow skirt.   Here's a 3-piece costume set that is already pre-made if you don't want to make your own.
"He was so nice to me this summer"
&
Olivia Newton John Rydell High Cheerleader Costume
"You're a fake and a phony and I wish I never laid eyes on you!"
Grease Rydell High Cheerleader Adult Costume
Olivia Newton John Costume Wigs & Hairstyles
Sandy wore a few different hairstyles in the movie, the most distinct feature is her bangs.  She wears her hair half-up and half-down with her bangs down in front. This is the hairstyle she had when she met Danny for the first time in the movie. She also wears her hair down and has the ends flipped outward with bangs in front.  There are a couple of scenes where Sandy has ponytail with her bangs down.  Here are a couple of Olivia Newton John costume wigs that would work for your outfit.
If you are dressing up as Sandy and you're not a blonde, you're going to need the wig.  If you are a blonde or dirty blonde you can pull it off on your own without the use of a wig.  For the good-girl look, a bob with a headband or ponytail with a ribbon would be cute.  For bad-girl look, you need to get the bouncy curls going on, so if you have thin hair, a wig might also be an option.
Sandy 1950's Bob Wig
Sandy 1950's Grease Finale Curly Wig
Olivia Newton John's Make-Up Grease Movie
---
Let's Get Physical Olivia Newton John Costume
Here is a cool idea for an eighties Olivia Newton John costume, you could get Physical in this for sure.  There are also some make your own costume ideas below if you want to piece something more unique together.  However you Get Physical is up to you this Halloween.
"Let's get physical, physical!"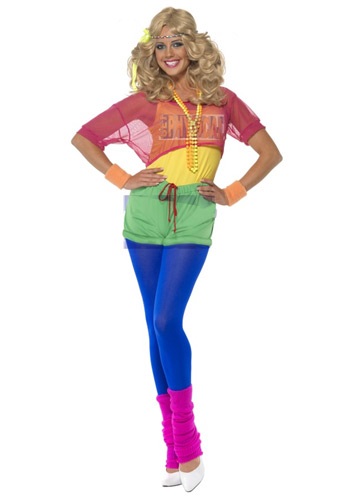 Womens 80s Lets Get Physical Costume

80's Olivia Newton John Halloween Costumes
Lets Get Physical Workout Tank
Hot Pink Leg Warmers
80's Celebrity Wig
Maybe you're not a Grease fan and you want the more 80's version of Olivia Newton John?  If that's true, I didn't forget about you!  Let's get physical, shall we? 😉  There are several ways you can establish your 80's look for Olivia Newton John, with an 80's outfit and sweat band you're on your way!  I personally would go for something that captures "Olivia Newton John" like this really cool workout tank!  It says "Let's Get Physical" on it and you can easily add some tights, leg warmers and wig to it.  I like the wig, I think the celebrity blonde wig is a nice touch.  If I didn't know better, I would say it was an Olivia Newton John wig!
It's not hard to pull off your Olivia Newton John look with a few tweaks to some eighties styles.  If you don't want to piece something together, you can think about possibly buying a full costume set.
Best Movies Costumes
Here are some of the best movies costumes at the Halloween Fun Shoppe. We don't stop at Olivia Newton John costumes, we have lots of the best movies costumes to choose from. Here are three more movies that have a huge following from the 80's and 90's.