Labyrinth Costume Ideas for 80's Fans!
Labyrinth Costume Ideas for Halloween – Go 80's!
This is my page dedicated to Labyrinth costume ideas because frankly, not enough regular retail store carry such awesome ideas!  Walk in to Walmart and ask them if they have a David Bowie Goblin King costume and they look at you cross-eyed I swear.  As a fan of the movie and 80's child, I've put together the most detailed Labyrinth Halloween costumes page ever!   Labyrinth is one of those movies with excellent costume choices because the characters were so distinct, especially Jareth, the Goblin King played by David Bowie.  You walk in with a David Bowie wig and a Jareth Goblin King costume and people know who you are!  Especially if you are going to an 80's movies theme party!
"I ask for so little. Just fear me, love me, do as I say and I will be your slave."
Jareth Goblin King Costume – Reminds Me of the Babe
In the movie Jareth, the Goblin King, wore very extravagant costumes.  You may not be able to replicate them exactly, but you can get very close.  Some of the most important costume clothing needed in creating a Jareth Labyrinth costume will be tight gray pants, his long long knee high boots, the pirate shirt with the frills in the front and a button up vest over the shirt .
Adult Renaissance Shirt
Black Renaissance Vest
Thick Cotton Full Leggings
Jareth Goblin King Costume Checklist
Tight gray pants, tights or leggings (you may need to go to the ladies department)
Knee high boots, black or gray (pirate or steam punk style)
Fluffy pirate shirt
Black Renaissance vest
Black cape with collar up (like Dracula)
Faux leather collard jacket *optional
Clear Crystal Ball *optional
Mens Knee High Boots
54
Clear Crystal Ball 78mm

Labyrinth Goblin King Necklace Replica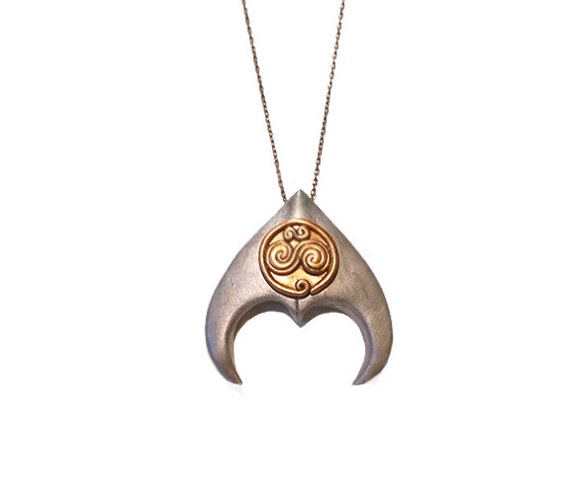 Jareth Goblin King Necklace Replica

This Goblin King necklace is made to look just like the one that Jareth wears in the movie.  The necklace is not optional, it's a very important piece to the costume.  The best one I've found is on Etsy, it's a handmade replica that looks authentic.  Whether you buy one of these or try searching out one on your own; the necklace completes the Labyrinth Goblin King costume.  The Labyrinth necklace is the piece that sticks out from Jared's shirt in many of the most memorable scenes of the movie.
Handmade
Jareth Goblin King Replica
Ships from the U.S.
Highly rated seller on Etsy
Labyrinth David Bowie Costume Hair Wigs
Jareth has a very distinct hairstyle in the movie to say the least.  It's become the David Bowie signature hairstyle if you ask me, because he is most often know for this glam rock appearance.  Now you could try and achieve this style on your own but the easiest way to get it is with one of these wigs.  When the wig arrives, you will need to tease it and give it some hairspray to give it the right look.
80's Glam Blonde David Bowie Wig
Jareth Labyrinth David Bowie Inspired Wig
Labyrinth David Bowie Halloween Costume Make-Up
For your David Bowie Labyrinth costume; you'll have to wear eye make-up.  The best way to nail it would be to watch a YouTube tutorial and follow along.  David Bowie has what appears to be two different colored eyes but after researching online a bit, he has the same color eyes, just one enlarged pupil in the left eye.  You could do one black contact in the left eye if you wanted to get the same effect for your David Bowie Labyrinth costume.  David Bowie make-up list is below. 
Goblin King Labyrinth Costume Make-Up Supplies
In this make-up tutorial, she will use the following make-up (or similar) to get her David Bowie, Goblin King look:
Goblin King Make-Up 
Eye-shadow primer
Full coverage foundation
Q-tips (to clean up edges)
Dark gray eye-shadow
Concealer
Powder foundation
Black eyeliner
Black mascara
Blush
Make-up sealer
Lipliner (nude, peach color)
Lipstick (nude, peach color)
Lipgloss – must have!!
Labyrinth Sarah Costume Ideas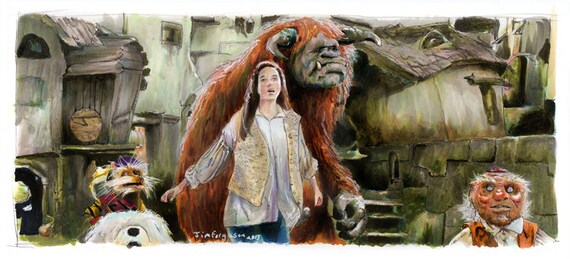 In the movie Sarah wore an over-sized puffy peasant style shirt.  Over the shirt she wore a cream colored 90's style vest with a gold scroll design.  She had on a pair of jeans and brown loafer style shoes.
Long Sleeve White Blouse
Long Beige Vest
Straight Leg Denim
Sarah Labyrinth Costume Checklist
"I can bear it no longer! Goblin King! Goblin King! Wherever you may be, take this child of mine far away from me!"
Long sleeve white blouse, with collar
Beige 90's vest with gold scroll pattern (any 90's vest will work, check the thrift stores too)
Straight leg denim jeans
Brown loafer or moccasin shoes
Brown beaded bracelet (see below)
Labyrinth Sarah Costume Bracelet Replica
In the movie Sarah wears a bracelet that she ends up giving to Huggle in exchange for help getting out of an area of Labyrinth they are trapped in.  You can find a replica bracelet like the one she had on Etsy if you want to be really authentic with your costume this Halloween.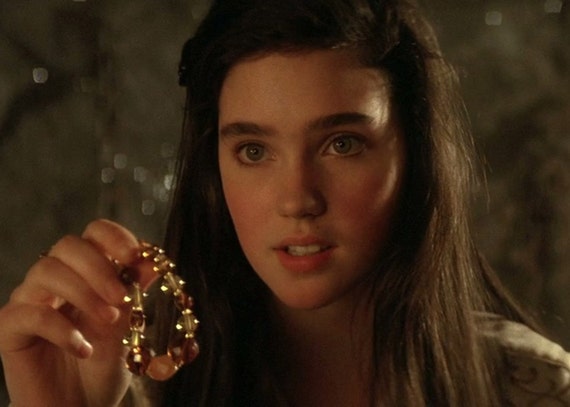 Sarah's Labyrinth Hairstyle – For an Authentic Look!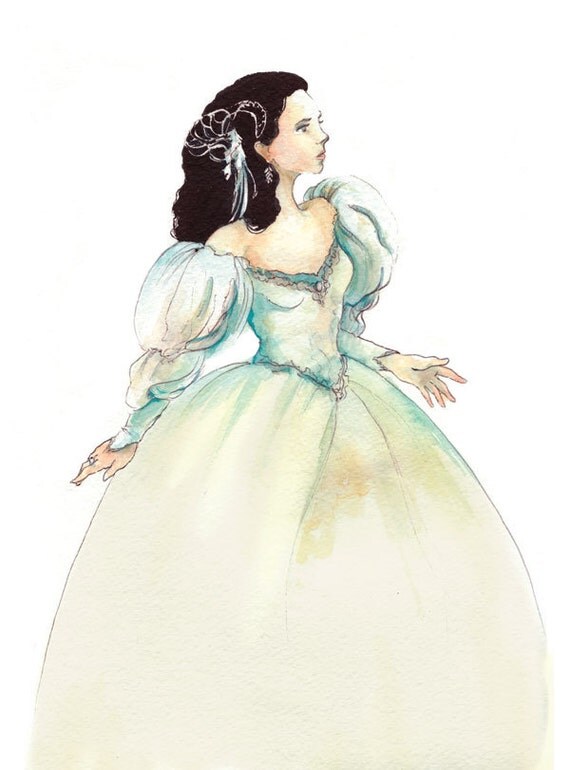 Sarah is a long, straight-haired brunette and for the most of the movie, she wears her hair down with one side of the front bangs clipped off to the right.  In her fancy dress that she wears during her dream at the masquerade ball, her hair is pinned half back in the front.  The back is teased with lots of curls.  There are decorative silver strands, leaves and flowers throughout her hair.
Labyrinth Fancy Dress Sarah Costume
"For my will is as strong as yours, and my kingdom is as great…"
One of the most popular scenes in the movie is the one where Sarah falls asleep and finds herself at a masquerade ball with the Goblin King.  It's here where she is wearing a beautiful ball gown similar to this one here.  These are handmade gowns available on Etsy and they are designed specifically with the Sarah Labyrinth Fancy Dress in mind.  These are not your everyday cheap Halloween costumes, these are real Labyrinth-inspired handmade gowns.
 Labyrinth Sarah Replica Gown
 Sarah Labyrinth Fancy Dress
Sarah Fancy Dress Costume Accessories
In the movie, Sarah has man beautiful accessories to go along with her ball gown.  Her crystal earnings and bridal hair accessories are breathtaking.  You can find similar inspired earrings and other cosplay jewelry on Etsy.  All handmade to look like the jewelry in the movie that Sarah wore with her masquerade ball gown.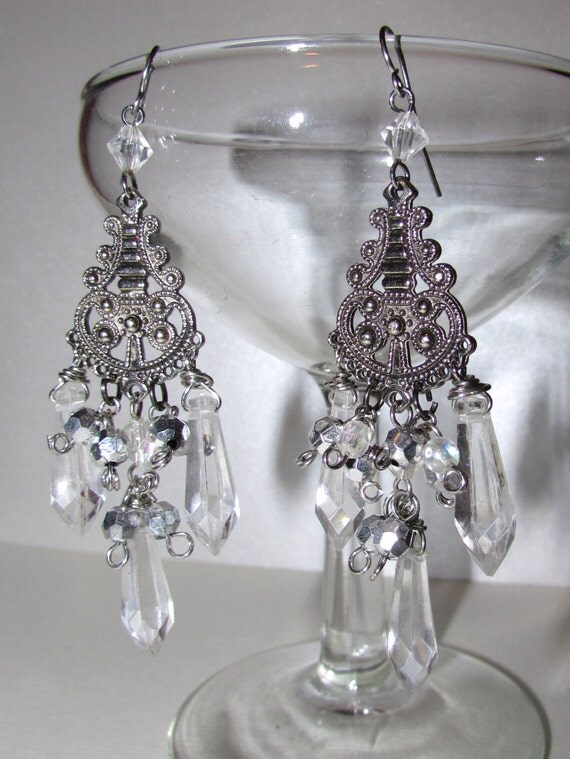 Sarah Labyrinth Inspired Earrings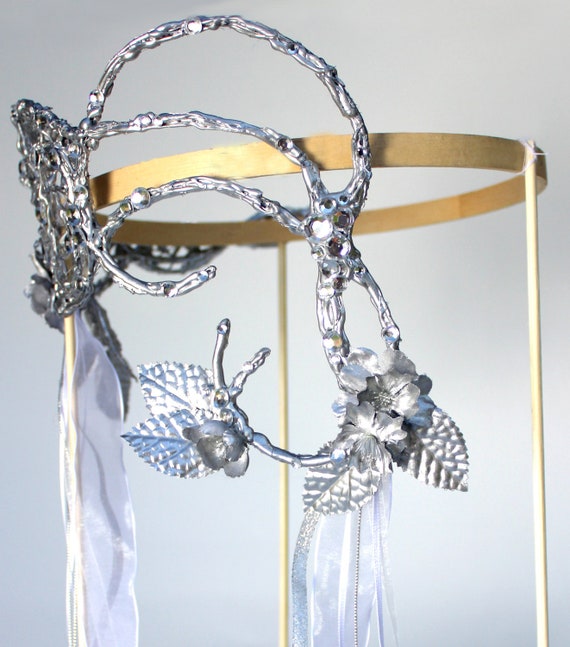 Labyrinthine Headpiece

Labyrinth Baby Toby Striped Pajamas Costume
If you're going as a couple with a baby, you could add Toby to your family group costume set.  You could even buy red and white pajamas and put them on a doll to take as a prop if you don't have a baby.  Toby was the reason that Sarah had complete the Labyrinth in the first place.  She wished for the Goblin King to take him far away.  What a sweet step-sister huh? You can find Toby's replica striped pj's available on Etsy.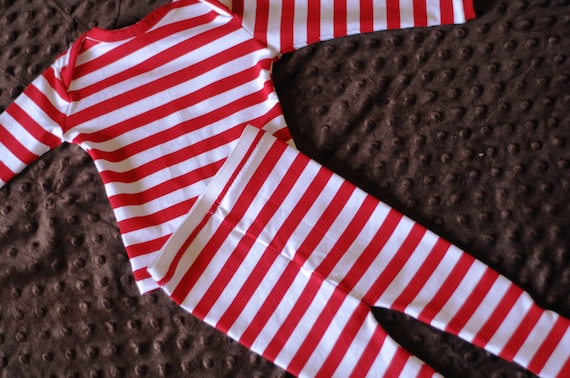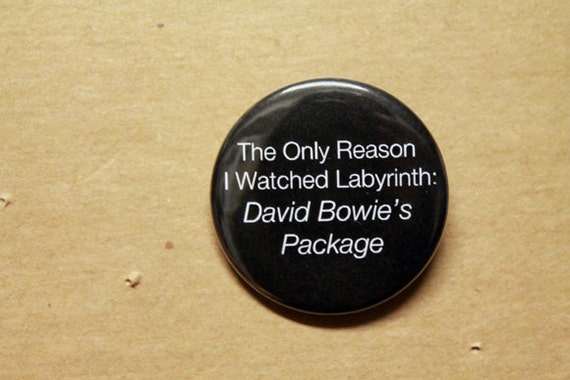 Labyrinth David Bowie Crotch
I'm going to talk about the elephant in the Labyrinth, which is in fact, David Bowie's crotch.  If you're going to be the "Goblin King" you'll have to keep in mind that the Labyrinth Goblin King was very well endowed in his costume pants.  Nuff said. We'll leave the googling up to you, just pick up a pair of socks and cram them down there to authenticate your Jareth Goblin King costume.  You can't possibly be David Bowie in Labyrinth without the emphasis on your "package."  Real fans will already know this. 😉
Best Movies Costumes
Here are some more 80's movies costumes ideas that you could also go with if Labyrinth didn't quite make the cut. Here at the Halloween Fun Shoppe we have a ton of the best movies costumes so that you can be anyone you want to be!