Kids Taco Halloween Costume – Yo Quiero Taco Costume?
A Kids Taco Halloween Costume
Looking for a kids taco Halloween costume good enough to eat? Okay, not really, but a kids taco costume is a really cool idea for Halloween.  One year we dressed up all of our kids as food, we thought it was silly and fun and they really enjoyed themselves.  The thing about a food costume like this is that it can be saved and worn again by future generations or played with as a role play dress-up item.  My kids love to wear their costumes for role play and a kids taco costume is certainly an exciting one to have in your dress-up trunk.
Taco Costume for Kids
You might be thinking why would anyone want taco Halloween costumes?  For the same reason anyone would want a kids pizza costume, they're fun! Dressing up as food is unique and different from you average super hero or princess costume.  Here are some of the most popular taco Halloween costumes for kids that I think you might enjoy.  I like to shop the different online retailers when I'm looking for Halloween costumes for my kids because there is more of a selection.  You're not likely going to find a kids taco Halloween costume in brick and mortar retail locations just because its not very common, which is great, who wants to be the same thing every other kid on the block is going to be?
 Kids Taco Halloween Costume
 Taco Child Halloween Costume

 Baby Taco Costume
You Wanna Taco 'Bout It?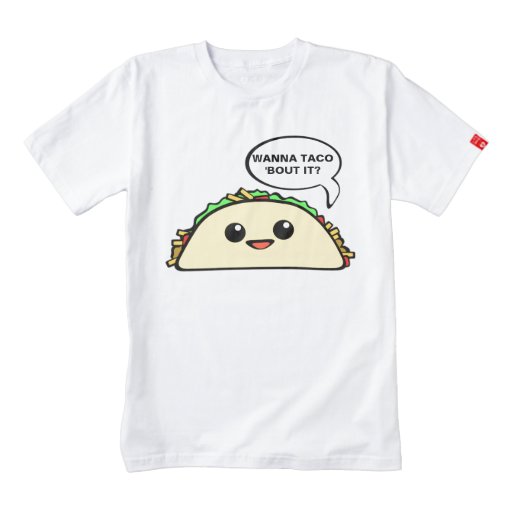 Wanna Taco Bout It Kids T-Shirt

Most Popular Kids Taco Costume
This is the most popular kids taco costume for Halloween by Rasta Imposta. This child size Halloween costume fits children sizes 7-10. This taco is a pull-over tunic, it will fit over your child's regular clothing. What's nice about the pull over tunic style costumes is that no matter what the weather is like on Halloween; warm or cold – your child is going to be comfortable. This particular kids taco Halloween costume is available from two online retailers. Depending on how close it is to Halloween, one or both might run out, so its best to order your costume early if you know you're going to want this one. The price fluctuates with the season, the closer we get to October, the more the costumes are going to cost.
 Kids Taco Halloween Costume
 Taco Child Halloween Costume

Cute Taco Costume for a Baby
This is a taco costume for a baby! It has a foam shell with foam fillings so it's comfortable and lightweight for baby to wear. This costume is for ages 6-12 months of age. It's definitely one of those costumes that will have people looking at your baby.
The taco shell of this baby costume is made of a soft foam.  The lettuce, tomato and cheese fillings are detachable, you add them in after you put the baby taco suit on.
I think putting a little Senor mustache on your baby would be hilarious for Halloween.  Give him an authentic Mexican flare. LOL  Imagine seeing this little baby taco crawling around the Halloween party? Yea. That's deliciously cute on so many many levels!
DIY Baby Taco Costume Idea
Don't want the taco baby costume featured above? How about just a simple onesie, mustache and Mexican straw hat? Make your own baby taco costume with some simple prop ideas.
 Do You Wanna Taco 'Bout It?

 Child's Mexican Sombrero
 Mustachifier Mustache Pacifier
Taco Halloween Costumes for the Family
There is an entire Taco Family line of costumes if you are interested in the whole family dressing up as a group. It's a pretty unique idea for families with a baby.  Halloween doesn't have to be on Taco Tuesday for you to enjoy these taco costumes!  There is practically a taco costume for everyone in the family.  Dress up as your favorite Mexican food family with these adorable costumes.  It's the perfect Halloween costume idea if you have a baby because there is a baby taco costume too!
 Rasta Imposta Taco, Tan, Standard
 Rasta Imposta Women's Foodies Taco Dress
 Taco Mascot Costume
Halloween Food Costume Ideas
If Mexican food gives you the burps you could always try some of our other Halloween food costume ideas here at the Halloween Fun Shoppe!  We've got lots of tasty favorites for you try!   We don't just do lunch and dinner either, we have some cool ice cream costumes that are sweeter than sweet!
 Peanut Butter and Jelly Halloween Costumes Kids Pizza Halloween Costumes Ice Cream Halloween Costumes