I Dream of Jeannie Costumes
Magical Genie Halloween Costumes
I Dream of Jeannie aired for five seasons, from 1965 to 1970. Thirty early episodes were produced in black and white. Another 109 were shot in color. Barbara Eden was cast as a beautiful 2,000-year-old genie. Larry Hagman portrayed a NASA astronaut who discovered and uncorked Jeannie's bottle on a deserted island beach. That's how he became her "master."
The original pink and maroon harem costume that Barbara Eden wore so well on the sixties sitcom is on display in Washington, D.C. at the Smithsonian Institution. Beautiful likenesses have appeared like magic at Halloween ever since the show hit the airwaves in 1965. Thanks to television syndication, the supernatural comedy aired for many decades and Jeannie became a household name. I Dream of Jeannie costumes have since become one of the most popular TV show costume ideas of all time.
I Dream of Jeannie
Jeannie's Pink Harem Costume
Veteran Hollywood costume designer Gwen Wakeling created Jeannie's trademark harem girl ensemble. Barbara Eden personally chose her costume's pink and maroon color combination. Each color symbolized a different aspect of Jeannie's personality. Pink represented her playful, girlish side, while maroon suggested a fiery, headstrong streak.
Even though the pink harem pants were fully lined to hide Barbara Eden's shapely legs, Jeannie's revealing costume was risque by sixties standards. Network executives wouldn't permit Barbara Eden's navel to be seen on camera. In spite of this, there were a few caught-on-film occasions where Jeannie's waistband slipped below her navel.
As you can see from the selections below, exposed legs and belly buttons don't seem to be an issue with present day I Dream of Jeannie costumes. Colorful genie costumes are classy as well as sexy. Several flowing harem styles are available for adults and children. There's even a harem costume for your family dog.
Barbara Eden as Jeannie
Barbara Eden
Out of all the actors I have worked with, I love working with Larry Hagman the most. We were very close and it was just a wonderful time.
Jeannie's Bottle
Barbara Eden also selected the purple trim of her character's bottle, which served as Jeannie's hip living quarters. What sixties kid didn't want a hideaway like Jeannie's? Sidney Sheldon, who created the show, modeled Jeannie's bottle after a 1964 Jim Beam bottle he received as a gift. It was a special release decanter filled with "Beam's Choice" Kentucky Straight Bourbon Whiskey.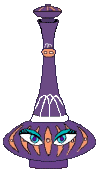 Sidney Sheldon asked one of the studio's art department designers to paint and decorate the bottle. Scores of duplicates were created over the course of five seasons. Barbara Eden wisely retained possession of the original gold leaf painted Jim Beam bottle.
I Dream of Jeannie Costumes for Adults
Jeannie adult costumes are one of the most comfortable TV show costume ideas—almost like wearing pajamas. Unlike Barbara Eden, you can even show off your legs and navel. Due to manufacturer variations these genie costumes may look somewhat different than shown here. Sexy genie and Arabian Nights costumes are hand wash cold and line dry. Some costumes feature Jeannie's traditional pink and maroon color combination, but genie costumes are available in many jewel-tone colors for all tastes.
Secret Wishes I Dream of Jeannie Costume
Sexy I Dream of Jeannie Costume
Delicious Arabian Nights Sexy Costume
Dreamgirl Women's Ally Kazam Costume
Starring Barbara Eden
Barbara Eden Poster – New! Rare!
I Dream of Jeannie Costumes Headpiece
I Dream of Jeannie Hat with Blonde Ponytail
Capture Jeannie's look with a pink hat and attached sheer veil. The 100% polyester blonde ponytail has a braided accent, just like Jeannie. This officially licensed costume accessory is one size fits most.
I Dream of Jeannie Headpiece with Blonde Hair
I Dream of Jeannie Costumes for Kids
Barbara Eden's harem girl costume is one of the most popular TV show Halloween costume ideas for girls. In addition to the officially licensed I Dream of Jeannie two-tone pink costume, you will find genie costumes for children in a rainbow of colors. Genie costumes are hand wash cold and line dry. Young girls love to wear their genie costumes year round. They're very popular for dress up, make believe, or when your child just feels like wearing something pretty and fun.
Toddler I Dream of Jeannie Costume
Sugar Dream Genie Costume
Seawhisper Harem Dancer Costume
Mystical Genie Costume
Barbara Eden and Larry Hagman
Barbara Eden and Larry Hagman I Dream of Jeannie Signed Photo
I Dream of Jeannie Costumes for Dogs
I Dream of Jeannie Inspired Harem Dog Costume
I Dream of Jeannie costumes will make your dog look as adorable as Jeannie's mischievous pup Djinn Djinn. Harem dog costumes are designed to fit most large dogs. Each costume includes a hat with attached veil, bra top, and harem pants. A velcro closure allows for your pet's comfort and safety.
I Dream of Jeannie Pet Dog Costume
Harem dog costume set includes a harem style one-piece dress and a hat. It's available in sizes S, M, L, XL. This pet costume is one of many officially licensed I Dream of Jeannie costumes.
I Dream of Jeannie Dog Pet Costume – X-Large
Original Jeannie Designs
Celebrate I Dream of Jeannie with these beautiful and original designs by artist Blonde Blythe. Click on any design to choose from many colors, sizes, and styles for all tastes and age groups.
Green Genie T-Shirt

Make Magic T-Shirt

I Dream of Jeannie (1965-1970)
In season five, Major Nelson and Jeannie married, a move that Barbara Eden felt was wrong for her character. After all, Jeannie was super human and they turned her into a housewife–just like her "rival" Samantha on Bewitched. Sidney Sheldon, Larry Hagman, and Bill Daily who played Major Healey were of the same opinion. Perhaps network executives should have listened to them. Season five was the end of the line for the fantasy sitcom. The show lost viewers and its final episode aired May 26, 1970.
Barbara Eden & Larry Hagman Color Photo Print
I Dream of Jeannie Cast
Barbara Eden … Jeannie
Larry Hagman … Major Anthony Nelson
Bill Daily … Major Roger Healey
Hayden Rorke … Dr. Bellows
Emmaline Henry … Amanda Bellows
Barton MacLane … General Peterson
I Dream of Jeannie Bottle
I Dream of Jeannie Inflatable Bottle Prop
Accent your I Dream of Jeannie costume with an officially licensed prop bottle. When inflated the bottle measures 17 inches tall. Unlike Jeannie's real Jim Beam bottle, this one won't break your toe if it's accidentally dropped on your foot!
I Dream of Jeannie Bottle Costume Accessory
I Dream of Jeannie Inflatable Bottle Prop
Barbara Eden
Jeannie Out of the Bottle
by Barbara Eden with Wendy Leigh
1964 Jim Beam Bottle
Painted by Jeannie's Dream
Barbara Eden kept the original Jim Beam bottle that was used in the series. She says there were many genie bottle props on the set and most of those broke. The original bottle was finally placed in a safe deposit box because the actress lives in southern California which is earthquake country.
Larry Hagman as Major Anthony Nelson
Larry Hagman Hand-Signed Autographed Photo
Larry Hagman
Barbara Eden is the most beautiful girl in the world.
Still Looking for Halloween Costumes?
Halloween Fun Shopping