Harley Quinn Costumes Halloween 2016
If you're a fan of DC Comics and love the female villains then these ideas for Harley Quinn Costumes will be right up your alley. If you're not familiar with Harley Quinn don't worry, you soon will be. The latest film in the Batman franchise, Suicide Squad hits the silver screen next year and front and centre will be the newest female super villain; formerly Dr Harleen Quinzel she is now known as Harley Quinn.
Harley Quinn's back story goes back to her days working as a psychiatrist at Arkham Asylum where she meets and falls for The Joker. She quits the asylum and becomes The Joker's sidekick. The character was inspired by a scene in Days of Our Lives where actress Arleen Sorkin dresses in a harlequin style costume. Sorkin and creator Paul Dini go back a long way so it was only natural for her to voice the character in the DC Animated Universe series. On this page you will find various versions of the Harley Quinn character costume including the traditional black and red jumpsuit, animated series style, the Arkham City version, the costume popularly adopted for Cosplay and of course the Margot Robbie Suicide Squad ensemble. So take your time and take a look at all the options available, whether it is a single accessory you need or a complete Harley Quinn costume. Once you have decided how you will put your look together you will find everything you need in the Harley Quinn Costume Store.
| | |
| --- | --- |
| | |
|  Here's a teaser of the greatly anticipated film, Suicide Squad due for release August 2016 |  The first appearance of a 'Harley Quinn' character was in an episode of 'Days of Our Lives' |
Harley Quinn Costumes for Cosplay and Halloween
The Harley Quinn character appears in a number of different versions of the Batman story and in each one the way she is portrayed varies considerably. There are the comic books, the animated series, the console games and the movie versions of the character. This gives you a wide range of choices from which to draw to create your own Harley Quinn look. The common thread is the mismatched crossover colour theme with red as the predominant colour. Harley Quinn cosplay costumes are based on the console games character. Click on the image on the right to see a great Steampunk Cosplay Harley Quinn Costume ensemble.
---
Secret Wishes Batman Arkham City Sexy Harley Quinn Costume
Beauty Costume Suicide Squad Cosplay Costume Harley Quinn Outfit Halloween Suit
Secret Wishes Women's Arkham Knight Harley Quinn Costume
Delta Suicide Squad Cosplay Harley Quinn Outfit Suits Halloween Costume Accessories
Batman Arkham City Secret Wishes Sexy Harley Quinn Asylum Costume
Harley Quinn Costume Jacket – ►BEST SELLER◄
&
 The Original Harlequin
The harlequin originates from a classical character from the Italian commedia dell'arte and is believed to have been introduced in the late 16th century. The harlequin is an agile and mischievous servant who is a romantic and cheerful foil to the more serious pierrot. The harlequin is usually portrayed wearing a checked outfit with a ruffled collar and long pointed-toe shoes.
The origins of the name itself, 'harlequin' are fascinating and explain many of the common elements associated with the character including the red and black colour theme and the use of the baton or stick. See this section for more details.
"My boss likes me to wear a smile to work"
Traditional Harley Quinn Costumes
The more familiar outfit associated with Harley Quinn is much closer to the original harlequin costume. A one-piece cat-suit in back and red with a white collar adorned with pom-poms at the points, a jester hat in red and black, a white paste theatrical face make-up and black eye-mask and black pointed toe shoes. Some of this can be created by someone who is handy with a sewing machine. If you don't know some-one with those skills there are lots of options available to buy online.
"Now THIS is funny, Mistah J!"
Harley Quinn Plus Size Costume

Harley Quinn Girls Costume

Harley Quinn Teen Costume

Harley Quinn Asylum Sexy Costume

Gotham Girls Harley Quinn Adult Costume

Super Villain Harley Quinn Sexy Costume

&
Hey watch those hands, Boy Wonder!
Margot Robbie as Harley Quinn in Suicide Squad
| | |
| --- | --- |
| At the time of writing, the latest film in the Batman franchise has hit the cinemas. Suicide Squad is an initiative of a secret government agency that recruits imprisoned supervillains to carry out dangerous black ops missions in return for having their sentences quashed. Harley Quinn is the main character portrayed by Margot Robbie. Putting together Margot Robbie's Harley Quinn is quite easy. The trickiest item is the jacket. If you can find two identical jackets in blue and red from an op shop you're almost there! The next step is to cut them in half then stitch a red right half to a blue left half up along the centre back. Fortunately, for the creatively challenged or time-poor among us, there is also a custom-made Harley Quinn Suicide Squad jacket available at Etsy. | |
Margot Robbie's Harley Quinn Varsity Jacket
Margot Robbie's Harley Quinn Varsity Jacket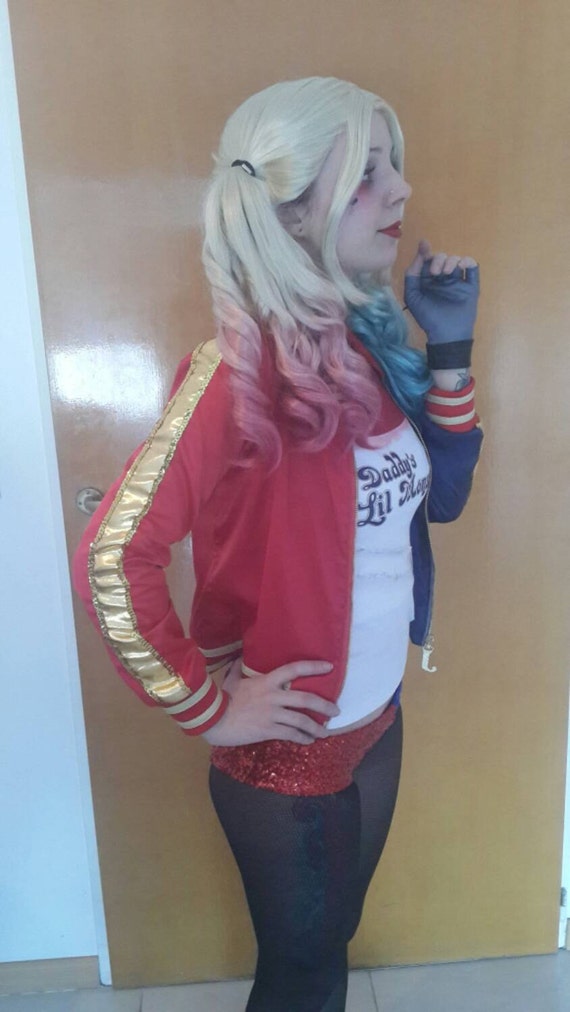 Harley Quinn Suicide Squad Jacket

Harley Quinn wears her red and blue varsity jacket over a white long-sleeve snugly fitting t-shirt. The text on the front of the shirt read 'Daddy's Lil Monster'. The neckline of the shirt is tinged in blood red while the shirt itself bears several slashes across the body. These are worn with a pair of super short sparkly red and blue shorts. These items can be bought individually or as a complete Harley Quinn Suicide Squad
set.
Harley Quinn Costume Tee: Burnout T-Shirt
Daddy's Lil Monster White & Red Short Sleeve T-shirt
Ya-cos Suicide Squad Harley Quinn Cosplay Costume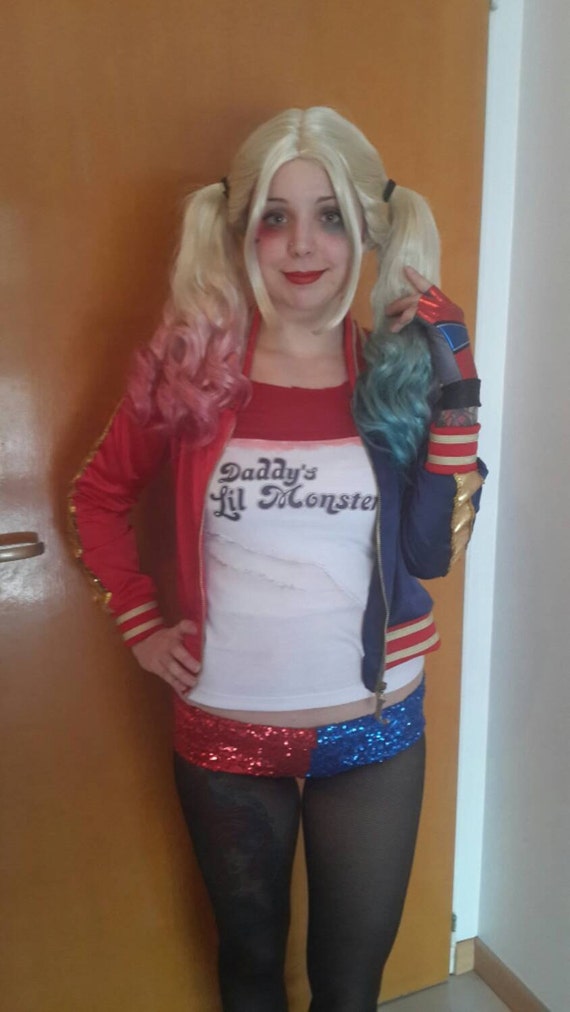 Harley Quinn Suicide Squad Complete Costume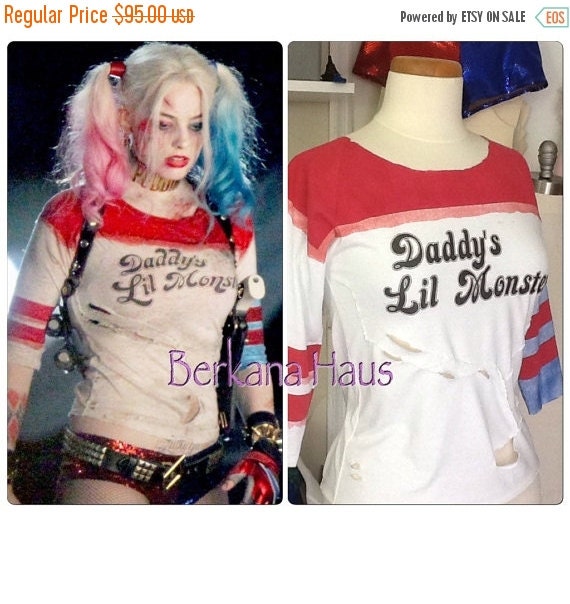 Harley Quinn Suicide Squad Inspired Daddy's Lil Monster Shirt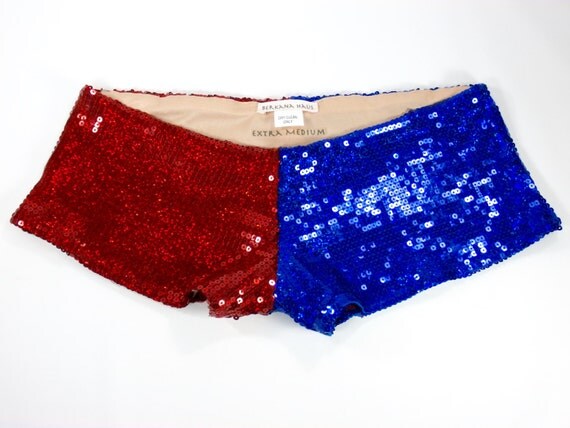 Harley Quinn Red Blue Sequin Shorts Costume

Complete your Harley Quinn look with a studded wrist cuff and metal choker.
Harley Quinn's Spiked Wrist Cuff Bracelet
Harley Quinn's Silver Choker Collar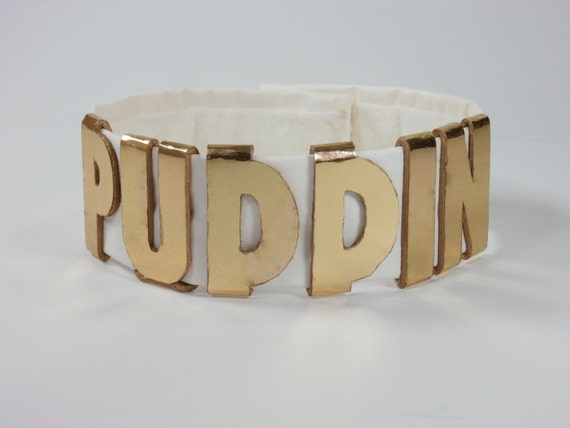 Harley Quinn Suicide Squad Inspired "Puddin" Choker

Harley Quinn Suicide Squad Blonde with Pink and Blue Wig Hairpiece for Costume
Harley Quinn Choker + 2 Spiked Bracelet Set Puddin Suicide Squad Costume
Batman Suicide Squad Harley Quinn Cosplay Shoes Boots
Need to Know How To Do Harley Quinn's Makeup? We've Got That Covered Too!
Save
Save
Save
Save
Save
Save
Save