The Kitty Litter Cake and Other Classics
Mmmmmmmm good! Are you looking for perfectly gross desserts, drinks, dips, and appetizers to delight—or perhaps disgust—your friends and family this Halloween? This book has the best gross recipes for all tastes and palates.
Gross-Out Cakes provides simple to follow step-by-step instructions for the following crowd pleasers: Kitty Litter Cake, Dumpster Juice Jubilee, Barf Bars, Never Eat Yellow Snow, Putrid Pus Pockets, Phlegm Brulee, Tarantula Trifle, Road Kill Cheesecake, Cow Pie Cake, Bird Bombed Nest, Toenail Torte, Snake Cake, Blood Clot Cake, Slime Mousse, Day Old Bath Water, Hideous Hairbrushes, Earwax Swabs, The Bleeding Brain, Googly Eyeball, Squeamish Skewers, Sludge Pile Pizza, Doggie Doo Doo Drops, Bug and Dirt Cake, Alien Cupcakes, Flaming Ant Cake, Boogery Bundt, Foul "Fly"ing Cupcakes, Pumping Heart Tart, Revolting Rat Cake, Sea Slime Sandwiches, Severed Arm Cake, and Graveyard Cake.
Calling all moms … Your children and grandchildren will love being grossed out with these tasty Halloween treats!
So, are you ready to turn your kitchen into a Halloween party zone? Everyone can get in on the act. This unique cookbook features full-color photographs. You'll be cooking like a chef in no time! Each recipe is rated on degrees of difficulty and grossness. Gross Halloween recipes are sure to be a welcome family tradition. Grab your camera and capture the memories.
Barfing Pumpkin Postcard
Gross-Out Cakes
The Kitty Litter Cake and Other Classics
A Unique Cookbook with 20 Dreadfully Wonderful Halloween Recipes
Gross-Out Cakes: The Kitty Litter Cake and Other Classics
Blood Clot Cake
Kitty Litter Cake
Zombies Hate Fast Food T-Shirts
Zombies Hate Fast Food Shirts for Halloween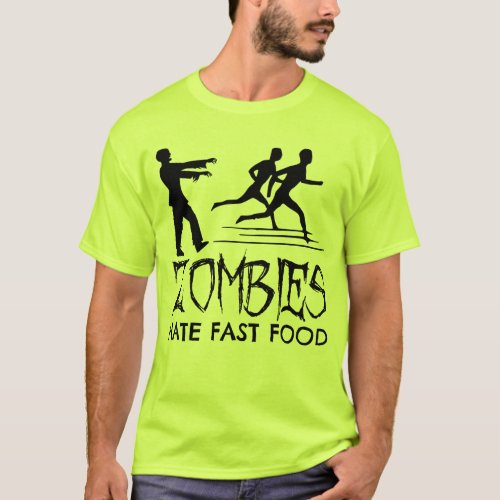 Zombies Hate Fast Food T-Shirt

Zombies Hate Fast Food T-Shirt

Halloween Serving Accessories
Halloween Black Cat Jack 'O Lantern Party Plates & Napkins
This practical set includes everything you need to serve gross-out cake or any other Halloween party food favorites. Deluxe party supply package includes 16 buffet luncheon paper plates and 16 themed paper napkins. All of the items are coordinated to match for a complete and attractive Halloween table. Save time! Everything is delivered to your door. No need to drive from store to store finding things that match. All items are disposable for easy cleanup after the party.
Disposable Halloween Party Dinnerware Set: Plastic Knives, Spoons, Forks, Paper Plates, Napkins, Cups (Service for 24)
Pumpkin Plate Closeup
Please Do Not Feed the Zombies
Warning Please Don't Feed The Zombies Tin Sign
Halloween Cake Pans
We love gross Halloween food, but it's also nice to have a few holiday standbys, like festive orange pumpkins and spooky spider webs. Wilton makes the best cake pans for holidays, and these jack-o-lantern and spider with web cake pans are 5-star winners! You'll love how easy it is to make cute cakes for your Halloween party. Wilton cake pans create raised designs that make decorating a breeze. Non-stick pans allow cakes to release easily for less breakage and quicker cleanup.
Halloween Jack-O-Lantern Cake Pan
Wilton Halloween Jack-O-Lantern Fluted Cake Pan
Halloween Jack-O-Lantern Cake
Halloween Web with Spider Cake Pan
This Halloween set includes two pans–one for a spooky Halloween spider web cake, and another for a smaller mini spider cake. Place the spider on top of the cake as shown here, or bake a bunch of mini cakes to place around the spider web cake.
Wilton Web with Spider Non-Stick Cake Pan
Frosted Web with Spider Cake
Halloween Cake Ideas
These chefs are having way too much fun in the kitchen. Join them as they create fabulous Halloween cakes that your family and guests will love. Get into the holiday spirit and pass these gross Halloween recipes around.
Halloween Grave Robber Cake
Halloween Blood Cake
Halloween Rainbow Party Cake
Make a Kitty Litter Cake
Halloween Fun Shopping