Girls Mermaid Halloween Costumes for SALE!
Compare Girls Mermaid Halloween Costumes for Sale! AND SAVE!
This page has nothing but girls Mermaid Halloween costumes in so many different varieties you'll think you just stepping into the sea.  Mermaids are such beloved mythical creatures to little girls and no two mermaids are the same – just as no two little girls are the same.  This page full of girls mermaid costumes features a mix of different styles and designs.  I've pulled different mermaid girls costumes from different online retailers so you can pick what fits your little girl (and budget) best.
I've got mermaid costumes for little girls of all ages, even babies need mermaid costumes – right? Of course they do.  No matter what the age of your little mermaid – there's a costume made just for her on this page of mine.
Beautiful Girls Mermaid Costumes
Girls use these mermaid Halloween costumes for more than just Halloween, you will often find them dressed up all year long – even a trip to the grocery store is a reason to wear a mermaid costume if you're a little girl (and parents, you should let them!).
 Magical Mermaid Costume for Girls
 Little Girls Mermaid Costume
 Melissa & Doug Mermaid Role Play Set
Beautiful Handmade Girls Mermaid Costumes
These beautiful handmade mermaid costumes for girls are perfect for Halloween and dress-up.  Little girls love to dress up and handmade mermaid costumes like these will last you a lot longer than a regular costume.  These are quality, handmade items made by artists and crafters online.  These are not mass produced products, they are made by people just like you and me trying to make money using their talents.
 Swimmable Mermaid Costume

 Handmade Girls Mermaid Costume

One of My Favorite Girl Mermaid Costumes
This is one of my favorite girl mermaid costumes because of the detail that has gone into the dress. It's quite fancy for just a Halloween costume. It's one of those girl mermaid costumes that little girls want to wear out shopping with mom.  This girls mermaid costume is available in a size 2-4T, size 4-6 and size 8-10.
Let's Pretend Child's Deluxe Mermaid Costume, Medium
Pretty Girls Magical Mermaid Halloween Costume
This magical mermaid Halloween costume is one of my favorites because of the pretty blue color (and is also available in pink on Amazon).  I love the sheer and flowing sleeves and flowers going down the fin.  This costume is available from two different retailers.  The closer we get to Halloween, the more options you may need.
 Magical Mermaid Toddler/Child Costume

 Rubies Magical Mermaid Costume
I LOVE this Toddler Girl Mermaid Halloween Costume!
This pretty pink and turquoise toddler mermaid costume is for little girls and the sizes range from 2T, 3T and 4T.  The shiny top and fin are going to make any little girls eyes light up!   This isn't going to just be a Halloween costume, expect her to want to wear this to the grocery store, post office and on your every day errands too.
Most-Popular Girls Mermaid Halloween Costumes
This is one of the most popular girls mermaid Halloween costumes this year. It's available online from several different online retailers in various sizes.  You can see why its the most popular this year, the blue sequin style fin bottom with shiny purple top really is stunning.  Where you get it is up to you, Amazon isn't always the cheapest in all cases so its best to shop around.
 Big Girls' Mermaid Costume
 Girls Mermaid Costume

 Girls Mermaid Costume

Little Girls Mermaid Costume, Toddler to Tween Sizes
This little girls mermaid costume is so pretty and it's one of the easier mermaid costumes to walk around in.  The fin is a beautiful sequin material that gives as she walks and moves.  With this little girls mermaid costume the dress is one costume: the fin and the top are connected.  The headband is also included.  This costume comes in little girls sizes ranging from toddler to tween.
Disney-Style Mermaid Costume for Girls
This mermaid costume for girls sort of looks like the Disney mermaid.  This costume has a lot of similar features to the one above.  It doesn't come with the red wig, what's nice about that is you don't need a wig to be mermaid.  This mermaid costume for girls is available in for girls sizes 4 all the way up to size 12! 
Mermaid Hair Accessories for Your Costume
Looking to dazzle up your under the sea style?  This hair wig is one touch you could add that would definitely enhance the appearance of your ocean girl.  I really dig these mermaid hair clips too, they give the appearance of start fish in your hair.  Great for mermaid Halloween costumes or just everyday wear.
 Monster High Lagoona Blue Girls Wig
 Starfish Mermaid Hair Accessories
Kid Mermaid Costume in Blue
I think this kid mermaid costume is so pretty with its ruffle end.  It's definitely not your every day mermaid costume – it stands out from the rest because it's a little more elegant.  There's no shell bra top, it's got a formal mermaid gown style about it.  It's currently only available in size 4 and size 8.
Handmade Toddler Mermaid Costume
Available in sizes 6 months all the way to 5T – this beautiful toddler mermaid costume is handmade to order.  It includes the top and tutu bottom along with the headpiece.  You can contact the creator and customize anything you need too.  A toddler mermaid costume like this about the memories you'll cherish seeing her in it.  An outfit like this works for professional photography sessions, dress-up and more.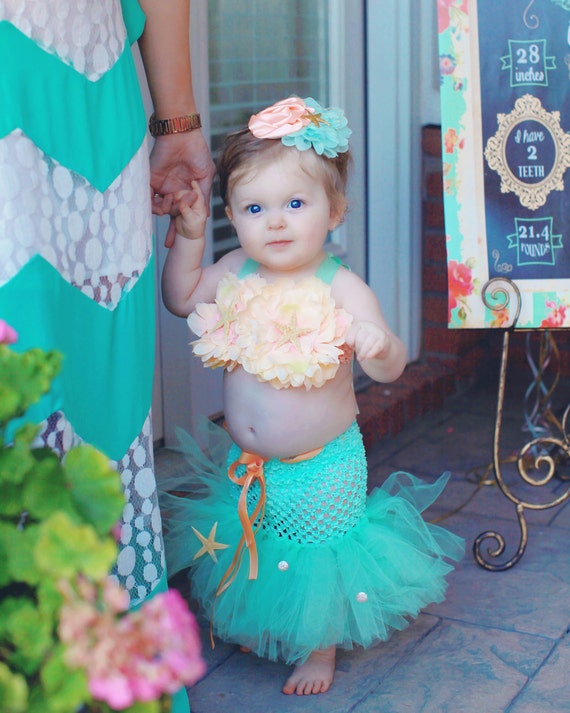 Baby Girl Mermaid Costume, Newborn to 12 Months
This baby mermaid costume has captured my heart!  If you're looking for a baby mermaid costume, this handmade creation from SquishyCouture is perfect!  Available from size newborn all the way up to 12 months.  These are the sort of costumes that you'll remember forever and pass along to siblings and other family and friends.  High quality, handmade top, tail and hair piece.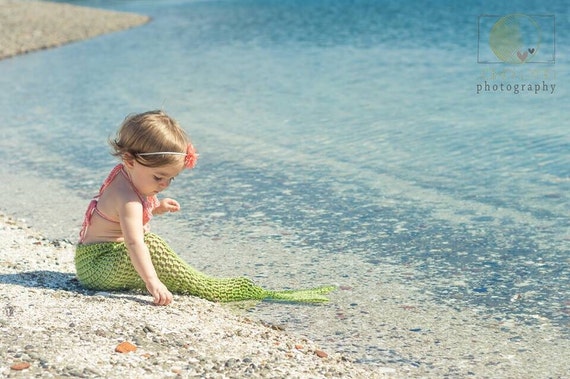 Newborn Girls Mermaid Costume from Etsy
How precious are these newborn girls mermaid costumes?  I mean really?  I think if you're going to dress your little baby girl up as a mermaid, these handmade costumes are the way to go.  Look how "snug as a bug" these newborns are in their mermaid costumes.  These newborn costumes make great props for photography sessions!   These costumes go up to toddler sizes as well.
 Baby Girl Mermaid Costume

 Baby Mermaid Costume