German Women Costumes for Oktoberfest 2016!
Beautiful German Women Costumes of All Kinds!
My daddy is German and every year we go to Oktoberfest in Big Bear, CA and I admire the beautiful German women costumes the ladies wear.  These gorgeous dresses are made of four main parts; the bodice, blouse, full skirt and apron.  The full German girl costume is called a "dirndl" or in south Germany they call it a "dirndlgwand."  A lot of men picture a German girl costume on a girl with braids and pulled back in some manner.  
A German dress costume can be long or short.  Obviously, the shorter the skirt, the more attention you're going to attract.  This page is made up of a variety of German women dresses and dirndls that can be worn as costumes.  There are a lot of reasons that a girl might want to dress up in dirndl; it's one of the sexiest outfits that a woman can put on while working or going to a costume party.
You don't have to have the largest boobs in the world to wear one of these German girl costumes; it looks sexy no matter what your bust size.  German women costumes are meant to accentuate the bust area, showing off a girls cleavage in a classy way.
In a Hurry?  See German Women Costumes HERE!
When you walk into a retail store, you're not going to find a selection like the one I have here on this page.  I've picked out a lot of beautiful German costumes for women that you can't find just anywhere.  Most costume and Halloween shoppes are only going to carry a limited selection of cheap looking costumes for the most part.
There are two ways you can dress up as a German girl; you buy the full costume set or you can go with an authentic dirndl.  The dirndl consists of a bodice, blouse, full skirt and apron.  It's usually laced up fairly tightly under the breasts so that they are accentuated.
Really Pretty German Girl Costumes
"Zu dienen" (at your service)
Here are a couple of the most popular German women costumes if you want something easy and pieced together.  Personally, I think they are all very cute, some have a longer skirt than others depending on the look that you are going for.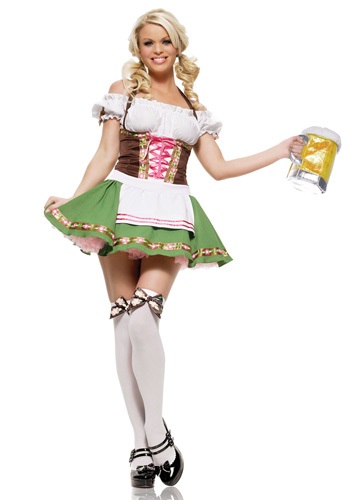 German Beer Girl Costume

Women's Oktoberfest Costume Dress
&
Most Popular German Beer Girl Costumes
This is the most-popular German beer girl costume, it's available a couple of different places online.  The closer we get to Halloween months the nicer it is to have more options because this one tends to sell out fast.
 German Beer Girl Costume

 German Beer Woman Costume
Beautiful German Girls Dirndl Costume
If you want an authentic German girls costume, you're going to want a real dirndl. The best part about buying the dirndl is that you can use it again later for a different outfit.
The bodice and blouse look fabulous with different skirts. This isn't just for Halloween, you can wear these dirndls for Oktoberfest too!
 Dirndl Floral 3-Piece Dirndl
 Black, Red and White Dirndl
Sexy German Girl Costume
"Danke." (thank you)
Here is the same costume offered from two different online costume retailers.  I think when most women think about dressing up as a German woman, they think of the more sexy German girl look.  German women are sexy in their bodice and blouse and its no wonder that this is a popular look at Halloween.  Halloween is the one time of year where you can dress up sexy and be anything you want to be!
 Womens Bavarian Bar Maid Costume

 Bavarian Bar Maid Se
German Women Costume Push Up Bra
"Leichter gesagt als getan." (easier said than done)
You're going to need a comfortable bra to hold the "ladies" up in your German girl costume. I recommend a bra made especially for a dirndl because it's low cut and made to accentuate your "girls" in the blouse.
Best Quality Comfortable Sexy Dirndl Push Up Bra
German Girls Costumes
"Ozapft is!"  (It's tapped)
Here are some cute German girls costumes that really stand out.  I love that there are so many different costumes available to women who want to dress up as German girls.  Dressing up as a German girl just isn't something we get to do every day!
 Women's Fetching Fraulein Costume
 Beer Stein Babe Costume
 Oktoberfest Female Costume
German Female Costume
"Prost!" (cheers)
This German maiden costume has a long skirt rather than a short skirt.  The longer skirt German girl costume is still quite sexy but a little more reserved than the ones featured with the shorter skirt.  I like this look because it has that old world charm to it.
German Dress Costume Plus Size
"Mit Vergnügen!" (My Pleasure!)
This particular German female costume is available in standard and plus-sizes. The German girl costume is one that looks incredibly sexy on bigger girls because they are curvalicious.
 Exclusive Deluxe German Girl Costume

 Plus Size German Beer Girl Costume

How to Dress like a German Woman
"Viele Köche verderben den Brei." (too many cocks spoil the broth)
If you want to dress like a German woman, you're going to need a dirndl, some white stockings and the perfect bra.  There are a lot of different German women styles to choose from if you know what color you want.
 3-Piece Longer Length Dirndl
 3-Piece Green Sweetheart Neck Dirndl
 3-Piece Midi Dirndl Blue Floral
German Costumes Women Look Fabulous In!!
Gretchen Dirndl Serving Wench Bavarian Bar Maid
This is the quintessential German bar maid costume. If I was going to wear anything, it would be this gorgeous German dress here.
The beautiful royal blue color looks gorgeous with the black waistline.  This is a good look for anyone who wants to dress up as a German beer girl or a bar maid.  This would look great with some knee-high stockings and back high-heels.
Personally, I think this look is one of the sexiest around because it has that servant girl persona that men find attractive.
You have absolutely got to put your hair in a braided hairstyle because it completes the sexy servant girl look that you're going for with this costume idea.  German girls wear loosely braided hairstyles that look a bit messy.
Get the German Girl Look! DIY German Hair!
German Bar Maid Hairstyle Ideas
If you're going to wear a German girl costume you're going to want to style your hair accordingly. The best way to do this is to either pull it back in various ways; such as:
1. braided pig tails
2. loose pig tails
3. braid wrapped around head (halo)
4. loose bun with strands coming down
German Female Costume Stockings
In order to complete the look of the German bar maid you are going to want to have some white stockings. I think that the over the knee look is much sexier when you're wearing a short skirt. With some white knee stockings like these you are going to really make your German outfit stand out. It will be undeniable that you are one sexy German girl! You might want to start practicing your German phrases so that you can really have that authenticity this Halloween.
 Long Over the Knee White Stockings
 Knee High White Stockings
---
Dirndl Image 1 and Dirndl Image 2 from Pixaby