Free Printable Halloween Coloring Pages for Kids
Printable Halloween Coloring Pictures
This is a page of Free Printable Halloween Coloring Pages for Kids so if you want a Halloween Coloring Printable, you will be happy you landed here.
Halloween is one of the biggest holidays in the United States and people go to great lengths to decorate, buy and wear outlandish and inventive costumes, and engage in a strange activity called Trick or Treating. Children of all ages dress up in costumes and take bags with them while walking around ringing doorbells and asking for treats. I guess maybe in the old days some people would play tricks on unsuspecting victims who either did not answer the door or just didn't give treats. Since now that's against the law, mostly the phrase "Trick or treat" is just used in fun.
But all over the country the tradition goes on. Since some places have had unpleasant incidents, there are now huge parties on Halloween night so people can dress up in costumes and celebrate it in a safe environment. Oh and collect treats. Treats meaning candy mostly. Treats are the key. Since it is a leftover of the old Pagan "all hallows eve" it is associated with witches, goblins and ghosts too. And since it is in Autumn, pumpkins and scarecrows got thrown into the iconography. It's really a strange mixture of a holiday. But I always say any excuse to party is okay! To be clear, I love Halloween!
Since it is such a huge holiday, there are many free coloring pages to print and color available. I have gathered quite a few for you here. My artist husband Richard Burns has contributed a few also. Enjoy! Please note that his images are for coloring only, not for commercial use!
Just Want to Color now? Click Here for Halloween Coloring Books!
Printable is for Coloring only. Not for Commercial use.
Black Cat and Pumpkins Poster Halloween Poster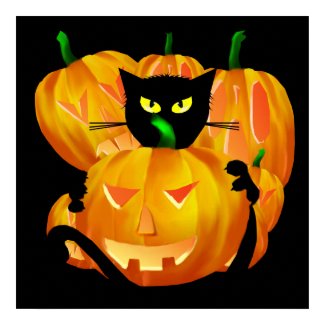 Halloween Black Cat and Pumpkins poster by Lotacats
sell my paintings for free at zazzle.com
Printable is for Coloring only. Not for Commercial use.
Owl Halloween Poster
time for child stories: the EVIL OWL by ROUBLE_RUST
Browse Halloween Posters
Printable is for Coloring only. Not for Commercial use.
Click Here to Sign up at Dover Publications for over 500 Free Printable Coloring Pages 
Lots of Free Halloween Coloring Pages
Just Click on any Link for Halloween Coloring
Happy Halloween!