Fast Food Restaurant Costumes For Halloween
Fast Food Restaurant Halloween Costumes 2016 Ideas!
I really crack up over fast food restaurant costumes; there's something about being reminded of all my favorite junk foods on Halloween that makes me laugh.  I used to work in fast food and be a fast food junkie so I have a sentimental attachment for Halloween fast food costumes. 😉
Some of the most iconic fast food Halloween costumes would probably be Ronald McDonald and Wendy, funny they're both red heads. Don't forget about the Colonel Sanders the king of Fried Chicken and the sandwich mogul, or a Subway Sandwich Artist!
I put together this page with some of my favorite fast food restaurant costumes, I had to use my imagination with some of them… that's a bit scary… but so is Halloween!
---
Ronald McDonald Fast Food Costume
"I'm Lovin' It,"
This Ronald McDonald Halloween fast food costume is probably the most famous fast food character of all-time.  All over the world, Ronald McDonald is recognized for this well-know hamburger fast food chain.  Ronald McDonald wears a yellow clown jumpsuit with red and white striped sleeves and socks.  Ronald has short, red, curly hair and wears traditional clown paint on his face.
Ronald McDonaldCostume
Big Red Clown Shoes
Ronald Red Clown Wig
Ronald McDonald has a very traditional clown face but there are a few details to be mindful of.  Ronald McDonald has those distinct black triangular points under his eyes that make him stand out as this famous fast food clown.
His red mouth paint is outlined in black as well as his red nose.  I would take a look at some Ronald McDonald pictures in Google to get an idea of what to do for the mouth and nose.
Ronald McDonald does not wear a clown nose, his nose is painted red with black outlining.  His nose paint shape is not round either, it's contoured to the shape of his nose.   You could say Ronnie is somewhat of clown nose rebel with this distinct style.
It's the little details you want to be mindful of when doing your Ronald McDonald fast food costume make-up. You could also watch a video on YouTube later once you have your costume to help you with the application and style technique.
Ronald McDonald Womens Costume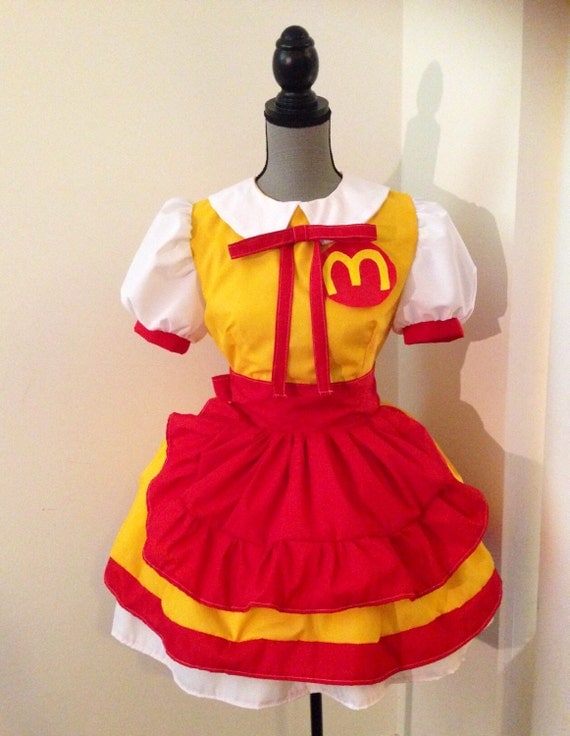 Womens Ronald McDonald Costume
This ladies Ronald McDonald costume is the perfect ensemble if you're looking for a womens fast food restaurant costume.
The cute style of the dress is very feminine yet distinct in character. This is a handmade item from Etsy, the seller custom created this ladies Ronald McDonald fast food worker costume.
This is a great costume for women if your date is going as Ronald McDonald or any other fast food worker.   A fast food restaurant couples costume wouldn't be complete without the ladies dressed up too!
The super cute puffy sleeves and collar make it a cute costume like no other. If you want to dress up in something more original, this is definitely the fast food restaurant costume to go with ladies.
&
&
---
Wendy Fast Food Costume
"Now That's Better"
Wendy is probably the second most-famous red head in fast food next to Ronald McDonald; she's definitely a lot cuter than he is.  I think going as Wendy and Ronald McDonald is actually a really cute couples costume idea, or even just a Wendy fast food costume and some "Fries" on the side.
Wendy Costume Dress
Wendys Redhead Wig
Plus Size Wendy Dress Costume
---
Colonel Sanders Halloween Fast Food Costume
"Finger Lickin Good!"
The most well-known man in Fried Chicken makes a really good fast food Halloween costume if you ask me, especially if you get the Mr. Clucker's hat there.  Colonel Sanders of Kentucky Fried Chicken has white hair, a white beard and mustache and wears his black 1950's fashion glasses.  The combed-over white hair, white beard and mustache are his unmistakable features.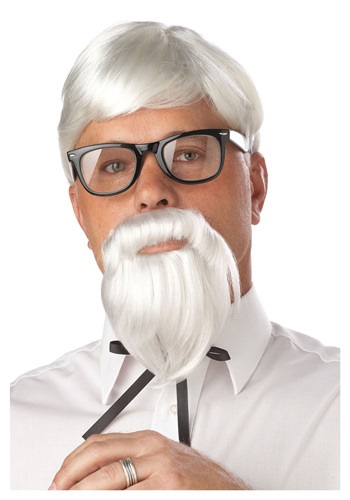 White Colonel Wig and Moustache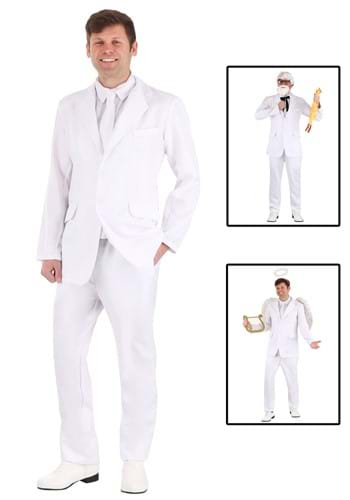 Men's White Suit Costume

Colonel Sanders Glasses
Colonel Sanders Fast Food Costume Features
Colonel Sanders wears a black western tie and black glasses. The black tie is what makes his white suit recognizable as this chicken fast food mogul.  
This black tie would work perfect for this fast food costume because it has the right look.  You can find any old black glasses with clear frames that have that vintage wayfarer style and they'll work. There are a few different pairs of Colonel Sanders style glasses available on Amazon.
Did you know Colonel Sanders was a 6th grade dropout? He didn't find success until he was past retirement age!  This fast food tycoon was an army mule tender, insurance salesman, locomotive fireman and political candidate before he was ever the world's most famous chicken man.
---
Burger King Fast Food Costume
"Your Way Right Away!"
There was a time last year when I was wondering if Burger King would even be a fast food chain anymore.  They closed a lot of stores but they seem to be making a recovery in some areas.  One thing hasn't changed, Burger King fast food Halloween costumes are a best-seller.  There are a few ways that you can go about the Burger King costume, you could buy the full costume or you can buy the mask with the official Burger King crown and buy a kings costume to accompany it.
Deluxe Burger King Costume

Burger King Costume Mask
King Velvet Costume, Burgundy
---
Subway Sandwich Artist Halloween Costume
"Eat Fresh"
One of the funniest fast food Halloween costumes I've seen are these "Eat Flesh" Subway restaurant style hats and shirts from Zazzle.  You could easily pair the two with some khaki pants and be a Subway Sandwich Artist.  The Zombie, Eat Flesh design is a great play on the Subway Eat Fresh logo.  It's practically impossible to get a Subway Sandwich Halloween costume online unless you get creative.  I definitely think this would make people laugh and chances are no one else is going to be a Subway sandwich artist this Halloween.
Zombie, eat flesh

Eat Flesh Restaurant Hat

Dickies Men's Flat Front Pant Khaki
---
McDonalds Hamburgler Girl Fast Food Costume
"Robble, Robble"
Fast food's most famous crook is the Hamburgler and this costume is super cute and super sexy for any girl looking for a fast food Halloween costume.
 I think this costume makes a great pair with Ronald McDonald if you're going as a Fast Food couple… although I don't know how many girls that eat fast food wear dresses like this! Yowza!  Poor Ronny isn't going to miss those burgers with buns like those.
This fast food girl costume features the cape, the long sleeve black and white dress, red neck tie, hat w/ yellow band, black eye mask, & red gloves.  Get yourself some super sexy black heels to complete this ensemble.
---
Halloween Food Costumes
Halloween Food costumes are fun and something that everyone can relate too. Here are some Halloween food costume ideas from the Halloween Fun Shoppe that you may like?  If Fast Food isn't your thing perhaps some Ice Cream, Pizza or PB & J would fit your Halloween fancy this year?