Sexy Elvira Halloween Makeup
Elvira, Mistress of the Dark continues to reign supreme as the vamp of camp. Former Las Vegas showgirl Cassandra Peterson upstaged more than 200 other late-night horror hostess hopefuls to win the coveted role that defined a career and launched the fledgling actress into international stardom.
Midnight Madness was a weekend television show that aired on local station KHJ-TV in Los Angeles, California. Cassandra's spunky wit and personality, combined with a killer bod, attracted scores of fans worldwide. Viewers laughed along with the Mistress of the Dark as she introduced and commented on a procession of lackluster horror flicks. A pop star was born, and the lucrative Elvira brand has endured for decades.
Elvira's haunting beauty is the inspiration behind one of the most popular TV show Halloween costume ideas of all time. You know the look … a slinky black dress with a plunging neck line, a beauty mark under the right eye, black fingernails, black pumps, a raven-hued bouffant hairdo, and a dagger-adorned belt.
What's the Elvira Halloween makeup secret, you ask? Everything you need to know to create Elvira's signature look is revealed here, along with a helpful video from Cinema Secrets. We've also included hand-picked product suggestions. Our Elvira Halloween makeup tutorial will transform you into everyone's favorite horror film hostess in no time.
Elvira, Mistress of the Dark
The Queen of the B's Who's Always Ready to Please
Elvira's Haunted Hills Movie Poster
Cassandra Peterson
If ever there was a holiday that deserves to be commercialized, it's Halloween. We haven't taken it away from kids. We've just expanded it so that the kid in adults can enjoy it too.
Elvira Makeup List
Elvira Halloween Makeup Beauty Essentials
Our Top Picks to Achieve Elvira's Natural Look
You may need to shop for a few Elvira beauty essentials. After all, we mere mortals aren't known for wearing false eyelashes and gobs of bright blue and fuchsia eye shadow on a daily basis. Click on any item to view our hand-picked product suggestions for the best Elvira Halloween makeup look. Perfect makeup is critical to any successful Elvira costume.
Cassandra Peterson Poster – New!
Porcelain Cream-Powder Foundation
Porcelain cream-powder foundation is the key to Elvira's ghostly pale complexion. Using a foam cosmetic sponge, dab foundation on the entire face and exposed areas of the chest. Cream foundation stays on longer and is easier to apply than liquids. You can also use a pale colored grease paint, as long as it's not too white.
Avon Extra Lasting Cream To Powder Foundation Porcelain
Foam Cosmetic Wedges
In addition to applying foundation, foam cosmetic wedges will come in handy for blending the colorful eye shadows and blusher.
White Foam Cosmetic Wedges (Set of 32)
Lush Black False Lashes
Using eyelash glue, apply a lush black false lash to each eye. When it comes to Elvira's lashes, the bigger the better!
Thick Long Black Human Hair False Eyelashes
Bright Blue Powder Eye Shadow
Using a small makeup brush, apply bright blue powder eye shadow on the center portion of the eyelid. To achieve a dramatic Elvira look, apply the shadow all the way up to the hairline. For a more subdued look, simply apply shadow up to the brow line.
Maybelline New York Brash Blue Eye Shadow
Fuchsia Eye Shadow
Using a small makeup brush, apply fuchsia powder eye shadow beneath and around the eye. Then apply it on either side of the bright blue eye shadow, taking it up to the brow or hairline.
Milani Must Have Fuchsia Baked Eyeshadow
Purple Pencil Eyeliner
Accent the natural crease of the eyelid with a thick line of purple pencil eyeliner.
NYX Purple Blaze Eye Liner Pencil
White Pencil Eyeliner
Using a white pencil eyeliner, fill in the space at the inner corner of each eye.
NYX Retractable Eye Liner – White
Black Eyeliner
Apply black eyeliner to the entire eyelid, extending the sides out to a fine cat eye tip. Using an angle detail brush, create five evenly spaced points above each eyelid to achieve Elvira's dramatic sixties-style cat eye effect. After the Elvira Halloween makeup is fully applied, use just a dab of black eyeliner to create a beauty mark beneath the right eye.
Maybelline New York Eye Studio Master Precise Liquid Eyeliner – Black
Dark Blue Eye Pencil
Using a dark blue eye pencil, line the area inside of each eyelid, from the center of the eye to outward.
NYX Retractable Eye Liner – Deep Blue
Dark Brown Eyebrow Pencil
Don't let your eyebrows get lost in all the bright shadow colors. Use a brow pencil to darken brows and exaggerate the arch just a bit.
NYX Auto Eyebrow Pencil – Dark Brown
Dark Black Mascara
Apply one or two coats of dark black mascara on the upper lashes. One light coat should do the trick on lower lashes.
CoverGirl Lashblast Mascara – Very Black
Fuchsia & Maroon Cheek Powder and Blush
Apply fuchsia blush power to the cheekbones. Accent with a dark maroon blush powder on the lower cheek bone and the hollow below. Blend the colors by dabbing lightly with a foam cosmetic wedge.
Leegoal Professional 10 Color Makeup Cosmetic Blush Set
Red Lipstick & Pencil Liner
For Elvira's blood red lips, choose a dark red shade with a slight blue undertone (as opposed to yellow). Line the lips with a pencil to prevent the red color from bleeding into the foundation. Use a lip brush to apply red color to the lips, then blot with a tissue. For added shine, dab a bit of clear lip gloss on the bottom lip.
e.l.f. Matte Lip Color – Rich Red
Elvira Halloween Costumes
Elvira, Mistress of the Dark
The Sassy Lassie with the Classy Chassis
Elvira, Mistress of the Dark Movie Poster
Cassandra Peterson
It is so hard nowadays to find a movie that I like. I don't mind blood and gore. But I mind when it's a slasher film, and it's some guy looking for women. I am opposed to that kind of thing. Blood and gore? I love that kind of thing.
Elvira on Red Chair Life Size Cardboard Standup
More Wisdom from the Vamp of Camp
Sure, the Mistress is pure eye-candy corn, but it takes more than blood-red lipstick, a ghostly-white complexion, and a set of deadly double D's to pull off the Elvira attitude. Laugh along with a few of the Queen B's favorite beauty tips, observations, and witticisms.
On lipstick: Number 1 make-up essential, for lips that say "Watch it dude … I bite!

On eyeliner: As you know, eyeliner is my life. You can never be too rich, too thin, or wear too much eyeliner.

On perfume: The best invention since 'Odorama.' Two of my favorites … 'Evening in Pittsburgh' and 'Catch of the Day.'

On cleavage: Two of the most important things a gal can own. Try using a pair of your brother's old gym socks to push it up, or, if there's nothing there to push up, just grab a Magic Marker and draw some cleavage on your chest!

On hairspray: Use on your hair or carry with you as a weapon. I use at least a can a day, so go for the cheap junk. 'Hard Hair,' 'Sticky Stuff' or even rubber cement will do the job.

On black nail polish: Black's a girl's best friend, and what could be more attractive than pitch-black fingernails; unless, of course, they got that way because you're an amateur carpenter on the weekends.

On sunscreen: A must for that ghostly-white complexion. I find a sunscreen with an SP Factor of over 5000 does the trick. Better yet, sleep during the day or wear a bag over your head.
Elvira's Movie Macabre
Elvira's Movie Macabre Framed Poster
Elvira Press On Nails
The Perfect Accessory for Elvira Halloween Costumes
Elvira is famous for her pitch black nails, but these variations are fun too. Choose from opal nails with black spiderwebs, or super cool glow-in-the-dark green nails. Press on nails won't damage your natural nails. Best of all, they can be used again and again.
Elvira Opal Spiderweb Press On Nails
Elvira Glow in the Dark Green Press On Nails
More Halloween Nail Art Ideas
Elvira Goth Chic Handbag
Featuring Elvira, Mistress of the Dark and Her Black Cat
The back and sides of this chic handbag are made of black faux-pony fur that you can pet like a kitten. There's plenty of room inside with one large zipped pocket and two open side pockets. Fully lined in blood red satin, the bag measures 12 inches wide and 10 inches tall, with a 7-inch base. A coffin shaped pull tab zips the bag closed. Carry by the 5.5 inch handles or a detachable strap that measures 45 inches. The bag is accented with gunmetal hardware, including a footed base. This is an officially licensed Elvira product.
Elvira Black Cat Goth Chic Handbag with Faux Fur
My Heart Belongs to Elvira
My Heart Belongs to Elvira Shirts and Gifts
My Heart Belongs to Elvira Raglan T-Shirt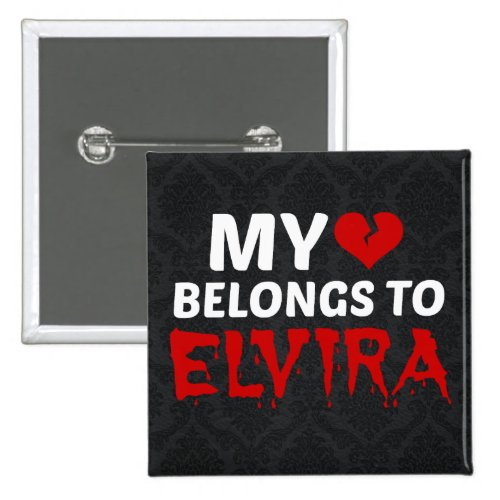 My Heart Belongs to Elvira Square Button

Sexy Elvira Halloween Makeup
How to Look Like Elvira
Cinema Secrets Official Elvira Professional Makeup Kit Tutorial
Elvira Loves Halloween
Halloween Fun Shopping