Elvira Halloween Costumes
Elvira Halloween Costumes
The Sassy Lassie with the Classy Chassis
She's sexy, she's sultry, and she's downright scandalous. Elvira reigns supreme as the Queen of the Macabre. It's not hard to understand why Elvira, Mistress of the Dark, has inspired the most popular Halloween costume of all time. If you're looking for TV show costume ideas, Elvira is your girl. Elvira Halloween costumes have stood the test of time. Just like Elvira, they always aim to please.
Women—and an impressive number of men—have embraced the Elvira look ever since Cassandra Peterson introduced her cleavage-clad character more than three decades ago. The Vamp of Camp has remained popular with audiences ever since.
Cassandra Peterson began her professional entertainment career began at the ripe age of 17 when she was hired as a Las Vegas showgirl. She thought she hit the big time when she became friends with with Elvis Presley. Instead, the superstar persuaded Cassandra to leave Las Vegas to pursue a singing career. "He didn't say Vegas was a bad thing, but that it was bad for me to stay there for the rest of my life," remembers Peterson. The young showgirl heeded Elvis Presley's advice and moved to Hollywood.
In the seventies she was a struggling actress doing guest roles on shows like Fantasy Island and Happy Days. Cassandra Peterson also performed with the popular comedy group The Groundlings. When offered $300 to host horror films for the nationally syndicated television show Movie Macabre in 1981, the actress jumped at the opportunity.
Poised on a red velvet sofa, the Valley Girl vampire wowed audiences with her tight slinky gown, black bouffant wig, and killer figure. Viewers loved her witty commentary, and many of them actually stuck around to watch the features. The sponsors had picked a winner!
Are you ready to dress as the Queen of the B's this Halloween? You're sure to have fun decked out in one of the sexiest TV show Halloween costume ideas ever. We have everything you need to turn heads 360 degrees and be the life of the party as vampy, campy Elvira.
Elvira Moonbathing
The Gal with the Shape that Drives Men Ape
Elvira Sexy Moonbathing Poster
Cassandra Peterson
I knew I would grow up and wear a costume one day, and that's exactly what happened.
Elvira Halloween Costumes
The complete officially licensed Elvira costume set includes full-length black polyester gown, belt, and dagger. Plus size costumes are generally suitable for men. Elvira gowns are hand wash and line dry for years of use and enjoyment.
See more Elvira Halloween Costumes and accessories in a variety of sizes and styles.
Elvira Mistress of the Dark Full-Length Dress, Black, Standard Costume
Secret Wishes Elvira Mistress of the Dark Full Figure Costume, Black
Elvira Mistress Of The Dark Deluxe Grand Heritage Collection Costume (Small)
Sanctuarie Dark Mistress Plus Size Supersize Halloween Costume Deluxe Wig Kit (XL)
Cassandra Peterson
That Gal in Black Who Keeps on Coming Back
Elvira Spider Web Poster Print
Cassandra Peterson
People always say, 'Who is your audience?' and I could never put a finger on it—and I wouldn't want to put a finger on it.
Accessories for Elvira Halloween Costumes
Elvira Wigs and Costume Accessories
Sexy Elvira Halloween costumes are so fun to accessorize. The jet black Elvira wig is the crowning touch for any Mistress of the Dark costume. Simply shake the wig and fluff the hair into place before use. If you plan to use hair spray, don't worry. The 100% synthetic wig may be hand washed with mild shampoo. Accessorize your wrists with studded Elvira bracelets (set includes one single and one double studded bracelet). Bracelets are officially licensed Elvira, Mistress of the Dark accessories. Red Swarovski crystals add sparkle to silver tone surgical steel black widow spider earrings that pair nicely with an Elvira costume. Does your Elvira costume include a dagger? If not, the one shown below is frequently purchased together with Elvira style gowns and costumes.
Elvira Mistress of the Dark Long Black Wig
Rubie's Costume Deluxe Elvira Black Wig
Elvira Mistress of the Dark Bracelet Set
Gothic Spider Silver Tone Dangle Earrings
Elvira Dagger Prop Replica
Elvira Dagger Earrings Red Stones
Elvira Halloween Makeup
Mistress of the Dark
Elvira Coffin Life Size Cardboard Standup
More Wisdom from the Vamp of Camp
I need this job like a leper needs a three-way mirror!

At least I get my little black dress cleaned once in awhile.

And tell them … tell them that I never turned down a friend. I never turned down a stranger for that matter.

Well, it is a pot luck. And believe me, when they open that pot they're gonna need all the luck they can get!

And if they ever ask about me, tell them I was more than just a great set of boobs. I was also an incredible pair of legs.

Oh well, there's nothing wrong with G-rated movies, as long as there's lots of sex and violence.

And if I get so depressed that I wind up hanging myself in the oven, well, those are the breaks!

If I retire doing the character, I don't think the character has to retire. There will still be caricatures of Elvira. You know, Dracula still works, and he's dead.
Elvira's Movie Macabre: Mega Movie Marathon
Twelve Horror Film Classics in One Great Package
Elvira presents a movie marathon of gigantic proportions, packed with twelve of the greatest B movies of all time! Naturally, each horror film classic is accompanied by Elvira's signature, tongue-in-cheek commentary. Bonus features include a behind-the-scenes look at Movie Macabre and a Mistress of the Dark music video by Ghoultown.
Elvira's Movie Macabre: Mega Movie Marathon
I Love Elvira
I Love Elvira Broken Heart Shirts and Gifts
I Love Elvira Broken Heart Raglan T-Shirt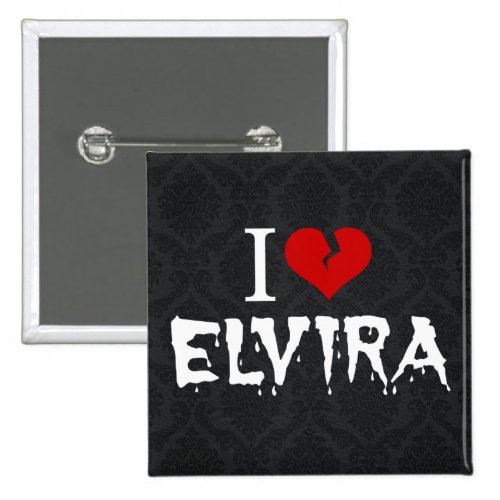 I Love Elvira Broken Heart Square Button

Elvira Halloween Costumes Tutorial
Tips for the Best Elvira Halloween Costumes
Elvira Loves Halloween
Halloween Fun Shopping