Easy Cowgirl Costume/DIY Cowgirl Costume
I like costumes that use real clothing so you can wear them again. So I have always made my own and my kids' Halloween costumes. Oh no, you say…are you kidding? I don't sew! Don't worry. You can buy all the parts but they will be reusable so easier on the budget in the long run than those flimsy ones from the big box stores. And with real clothes you can make an easy cowgirl costume!
I recently moved to the great state of Texas and it's a whole different country down here, complete with a clothing style of its own. I live in the middle of ranching country, and horses and cows surround my town, so the costume of cowboys and cowgirls is actual everyday attire here which makes it pretty easy to find. There are giant boot stores and giant country style clothing stores to suit every budget.
But what if you don't live in cowboy country? It's still easy to be a cowgirl; I'll show you how right here. You can definitely make a DIY cowgirl costume; it's easier than you might think!
Just want a cowgirl costume already made? Click here for Cowgirl Costumes.
But if I were you I'd check the easy to make cowgirl costumes you can put together yourself below. All of these ideas for the cowgirl costumes women wear will also work for cowgirl costumes kids and toddlers would wear too!
Design Your Cowgirl Costume
 Decisions, Decisions, What Kind of Cowgirl Should I Be?
The first thing you will want to do is decide on the type of cowgirl you want to be. Real cowgirls wore Brown suede skirts and Black or Brown boots and Brown or Gray or Black hats and plain accessories. (for example, belts were plain, not studded.)
Somewhere along the line, probably Hollywood influenced, cowgirl clothes became girly and studded with rhinestones. So now you can be a Pink or Blue or Purple cowgirl and you can have all your accessories studded up to the max with rhinestones and semi precious stones. Traditional or glam, it's your choice.
Image: Cowgirl, from Zazzle artist carpidiem at Zazzle.com
Authentic Cowgirl Skirt for an Easy Cowgirl Costume
Cowgirls cannot wear a straight skirt because they have to get on a horse and ride it! Their skirt needs to be full! Or at least A-lined. Traditionally they were Brown suede, made from cow hide, you know? And Brown hides dirt, bonus! But these days any color will do so figure out your color scheme and get the skirt first as it is the largest piece of your costume and everything else will take its color from your skirt choice.Here's a quintessential cowgirl skirt!
 Scully Women's Suede Leather Fringe Skirt
Blue Denim Skirt for an Easy Cowgirl Costume
This skirt is totally cool for a Western or cowgirl outfit, and could also work really well for a Gypsy costume next year! Also just a wonderful skirt to run around town in. One of the pieces of cowgirl costumes women really like to keep on wearing all year round.
 Modern Kiwi Emma Embroidered Denim Dress / Skirt
Cowgirl Jeans for a Woman's Cowgirl Costume
Don't want a sissy skirt? Some people think real cowgirls wear pants and if that's you, there is nothing more Western than a pair of jeans.  Tuck these inside your boots to show them off.
 Levi's Women's 505 Straight Leg Jean
Cowgirl Bootcut Jeans/Easy Cowgirl Costume
These are boot cut so they go outside the boots. Fine if you don't want your boots to show. I love boot cut jeans all year long for just about everything, not just a cowgirl costume.
 Levi's Women's 515 Bootcut Jean
Cowgirl Boots!
Boots might actually be the most important part of the cowgirl costume! Traditionally boots were worn to protect against snakes! But I love boots as footwear all the time anyway, and many people do. They're actually my favorite shoes and I have many pairs. No athletic shoe craze is going to keep me from my boots. The ones here are totally Western style, perfect for a cowgirl costume but beautiful for any Gypsy style outfit or just cruising in jeans.
Here where I live girls actually wear cowgirl boots with shorts! These are perfect for that! Look at that thick sole, these boots will last you forever! But there are many more boots! Just click to see lots of them!
 West Blvd Miami Cowboy Western Boots
Cowgirl Hat for Your DIY Cowgirl Costume
Another major piece of your cowgirl costume is the hat. Traditionally they were felt and you can still get one; however it's going to cost you. For a costume a straw one will do, and it will work with many of your cute summer outfits too. Inexpensive and perfect for a cowgirl costume or just to top off a casual outfit and keep the sun at bay!
 New 2-Tone Woven Cowboy Cowgirl Hat with Beaded Band one size
Cowgirl Shirt or Cowgirl Blouse for an Easy Cowgirl Costume
Just wear a plain White long sleeve blouse of any type with your skirt or jeans. Many cowgirls like a more tailored shirt but just as many like a flowy blouse as their top, It's up to you! You probably already have a blouse or shirt that will work and it doesn't really have to be White either. Just use a top that looks nice with the bottom piece of your costume. Cowgirls like to be stylish! I love these beautiful blouses and they would go with lots of my outfits, not just my cowgirl costume!
 Womens lace Lace Crochet Long Sleeve Cotton Blouse
 Zeagoo® Womens Long Sleeve Cotton Casual Shirt
Essential Cowgirl Accessories
Classic Western Belt for a Cowgirl
Plain buckle but the leather is tooled. Quintessential Cowgirl belt!
 Women's Beautiful Western Style Oval Buckle Belt
Bling up the Belt and Your Cowgirl Costume!
Bling is your thing? Here is a beautiful studded belt for all your dressy glam Cowgirl outfits!
 Western Cowgirl Horseshoe Charm Bling Belt with Rhinestone Studded Buckle and Strap
Bandana or Scarf for Your Easy Cowgirl Costume
Gotta keep those pesky mosquitoes off your neck, and you might need a quick mask to keep the dust off your face, and if you need a tourniquet in a hurry, a bandana was a fashionable but very useful accessory for the trail in the past. Even if you are not going to be riding a horse, they still look beautiful as an accessory to any outfit not just a cowgirl outfit. Choose your color! All the colors of the rainbow for your cute cowgirl outfits.
 5pcs Mix Style Silk Feel Square Neck Hand Hat Purse Bag Sash Hair Scarf Shawl Wrap
Optional for an Easy Cowgirl Costume: A Vest
Sometimes a vest can add to your look. Not essential, in fact, too much stuff can take away from your fashion statement. So if you opt for a vest, maybe a neck bandana instead of a full on scarf would be better.
 Simplicity Women's Vintage Style Sleeveless Denim Jean Jacket Vest
 A Cute Sheriff Badge for your DIY Cowgirl Costume!
Add this cute Sheriff Badge to your cowgirl costume! Great excuse to be the boss!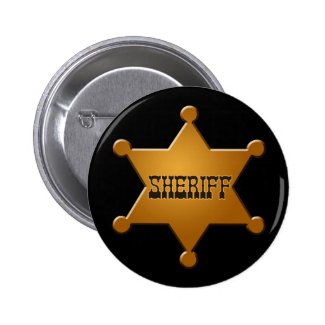 Sheriff Badge – button by twilight_cat
See more Sheriff Buttons at zazzle.com
Thank You for Visiting! Happy Halloween!
Yippie Aye Oh Kaye Yay!