Cutest Cabbage Patch Baby Costume Ever!
Adorable Cabbage Patch Baby Costume Ideas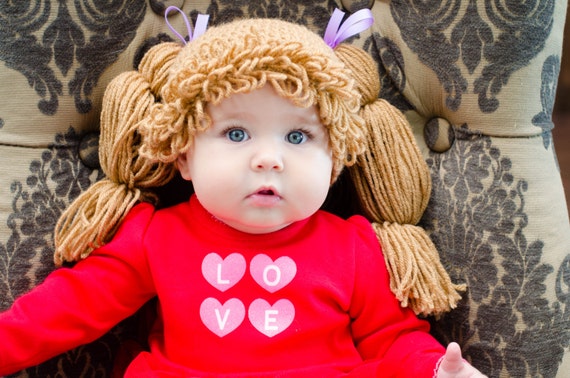 A Cabbage Patch baby costume is the most adorable look for an infant with chubby cheeks.  You will seriously fall over when you see one of these costumes on a baby or toddler, it's ridiculously cute! I remember when my little girl was a baby, she had the biggest, puffiest cheeks!
A Cabbage Patch costume is perfect for those bright-eyed, chubby-cheeked little babies!   The Cabbage Patch costume is pretty easy to complete, you can dress your baby in just about any cute, frilly dress or some OshKosh overalls and buy one of those Cabbage Patch wigs for babies. There are some cute Cabbage Patch baby onesies that you could add to a cute pair of pants or overalls.  What makes the Cabbage Patch costume complete is the wig!
---
Cabbage Patch Hats Babies, Pigtails are Precious!
These two Cabbage Patch hats are so cute because they have pig tails. There is one brunette and one red head Cabbage Patch wig in pig tails. The pig tails will so cute with a frilly little baby dress or a cute outfit.   The yarn hair is MUST have for a Cabbage Patch costume and these pig tails are the most popular hair style of them all.
 Brunette Doll Baby Hat
 Red Headed Baby Doll Hat
---
How Cute is This Cabbage Patch Boys Baby Hat?
I swear I just want to die from all the cuteness on this page!!  You want a Cabbage Patch boys costume wig?  This is the perfect Cabbage Patch boys costume wig and you can easily pair it with any cute boys outfit to make it work.  Corduroy overalls and a white shirt would be a good Cabbage Patch boys costume idea because it reminds me of the old vintage Cabbage Patch dolls from the 80's.  Make sure there is plenty of room on your camera, you're going to need it!
---
Cutest Cabbage Patch Hat Baby EVER – Blonde Pigtails
These little Cabbage Patch hats make great props for photography session with babies as well as Halloween costumes.  The yard head wigs are the perfect depiction of those beloved Cabbage Patch dolls.  This particular dolly wig is available in different sizes and hair colors. Etsy has lost of handmade yarn hair wigs for baby doll costumes and what's nice is your supporting smaller home businesses.
---
Cabbage Patch Hat Babies are TOO TOO CUTE!!
These two little Cabbage Patch hats are so adorable for your babies. They melt my heart when I see little baby girls wearing them.  Your friends and family will be snapping photos left and right!  It's not everyday you see the most adorable Cabbage Patch kid ever!  They come in different sizes so you can dress up your newborn or your toddler.  What I like about the second one is that it comes in lots of non-traditional hair colors too, like purple, pink and gray (Cabbage Patch Elsa baby perhaps)?
 Red Head Cabbage Patch Wig Babies

 Cabbage Patch Hats – Different Colors

---
Really, Really Cute Cabbage Patch Wigs for Babies!
How cute are these Cabbage Patch wigs for babies? It's like you're being showered in a webpage of cute, adorable babies!  I mean seriously, these little yarn haired wigs are darling, you will never forget your baby in one of these.  You can literally wear any cute outfit and pull of this costume on your baby.  The best babies to wear these Cabbage Patch wigs are the chubby-cheeked, bright-eyed ones!  There is nothing cuter than a little, chubby Cabbage Patch.
 Cabbage Patch Baby Wig, Brunette

 Cabbage Patch Hats Babies

---
Cabbage Patch Costume Tee for Babies
Complete the look wit these Cabbaby Patch Kids shirts for your baby costume.  Dress up your baby in this cute Cabbage Patch Kids baby onesie and you won't be able to stop the Cute Patrol from arresting you.  This would be the perfect onesie to wear with your Cabbage Patch wigs because it looks just like the logo on the box. You could put this on your baby with her Cabbage Path wig and a skirt or some cute bottoms – maybe even a green baby tutu?
 Cabbage Patch Onesie

 Baby Bodysuit Cabbage Patch Kids

---
What Does a Cabbage Patch Baby Wear?
Cabbage Patch kids wear the same outfits that regular kids wear.  When I was a little girl my Cabbage Patch wore OshKosh overalls, white ruffle socks and these triple striped sneaker shoes.  Add a cute stripe shirt and this is almost an exact match to what my Cabbage Patch dolly used to wear.
 Osh Kosh Baby Girls' Embroidered Denim Shortall
 Jefferies Socks Double Ruffle Turncuff Sock
 adidas Originals Superstar 2 Sneaker
---
Super Cute Baby Dolly Costume!
This little Yarn Baby Ragamuffin costume would make a cute dolly costume too! In this baby doll costume the yarn hair is attached to the bonnet.  This costume includes the little dress, knickers with attached booties.
Rubie's Costume Yarn Babies Ragamuffin Dolly Costume
---
Make Your Own Cabbage Patch Costume for a Baby with this D.I.Y. Pattern!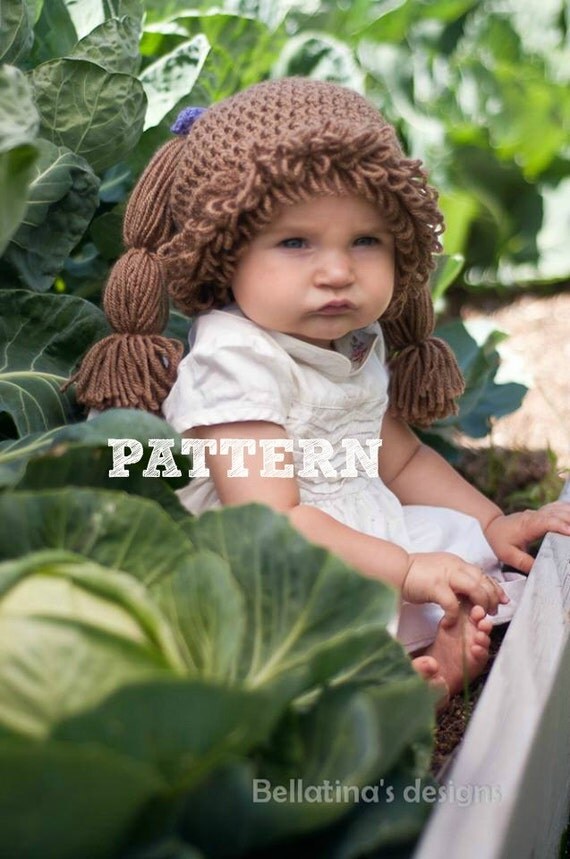 Cabbage Patch Hat PATTERN ONLY

Cabbage Patch Costume Wig Pattern!
You can make your own baby Cabbage Patch costume by getting the PATTERN for the wig and making it yourself.  You can find a few different people on Etsy who sell the pattern for these adorable Cabbage Patch hats for babies.
ANY cute outfit will do for a Cabbage Patch costume because they come in so many different style.  You could pick out a more vintage outfit or go with some OshKosh to keep it authentic – but the yarn wig is something you cannot compromise on if you want to have a cute Cabbage Patch costume for your baby.
If you are someone who can create costumes yourself and you like those kind of D.I.Y. costumes – you could use a pattern and create your own Cabbage Patch Kids costume wig for your baby!
---