Ballerina Halloween Costumes
Ballerina Costumes for Halloween
Ballerina Outfits, Ballerina Dresses
One really great thing about a ballerina costume is that it's relatively inexpensive to put together. Another is that you can wear it after Halloween's over, so you get a lot of value for your money. In fact you might already have some of the parts of  ballerina Halloween costumes lying around your house.
Now that's for the type of ballerina outfit that professional ballerinas wear in real life on a day to day basis. Those tutus and toe shoes are for recitals and other performances. Lots of little ballerinas dream of being in the Nutcracker but it takes lots of days of wearing regular ballet dance wear before a ballerina gets to sparkle on stage in the tutu!
Here I am presenting both kinds of costumes, the fancy ones for all the little girls who want to wear ballerina Halloween costumes, and the day to day dance class ballet outfits that dancers wear.
To find Ballerina Costumes for Halloween right now, Click here.
Ballerina Outfits for Children
Ballerina Outfits for Babies
Ballerina Outfits for Toddlers
How cute is this darling little ballerina costume for baby? Precious enough for church after Halloween's over. A precious infant ballerina costume.
 Newborn Baby Girl Pink Ballerina Princess Costume (0-3 Months)
Ballerina Outfits for Babies
Ballerina Outfits for Toddlers
For babies, you could actually use a beautiful onesie and just add a tutu. Easy Ballet outfit for Halloween.
 Rubie's Costume Co Baby Girl's Infant Blue and Green Tutu Costume, Multi, One Size
Baby Ballerina Haloween Costumes
Girls Pink Flower Tutu Dress with Headband
 Rubie's Costume Newborn Pink Flower Tutu Dress, Pink/Purple, 6-9 Months
Toddler Ballerina Outfit
Ballerina Outfits for Toddlers
Toddler Ballerina Costume: Look at this adorable Pink Ballerina costume for a toddler! They do have ballet lessons for the tiny ones and this little ballerina outfit is perfect for Halloween or her first Ballet recital.
 Child's Pink Rose Ballerina Dress Up Costume – Small
Ballerina Outfits for Toddlers
Ballerina Tutus for Toddlers
Here are more toddler ballet tutu skirts. The traditional ballerina wears a leotard and adds a tutu for recitals. So that's another way to do a ballerina costume, just use a leotard and add a tutu and perhaps some tights.
One great thing is the leotard can be worn for lots of things, not just ballet, and the tutu can also be used for other costumes, like fairies or butterflies.
First up is Butterfly Tutu to be a ballerina or a butterfly! Then we have a Fairy Tutu!
 Butterfly Tutu Skirt Pink Purple Green Toddler Girls Birthday Party Costume
 Rush Dance Ballerina Girls Dress-Up Princess Fairy Costume Recital Tutu (Kids 3-8 Years, Snowflake (Elsa))
Ballerina Halloween Costumes for Children
Ballerina Outfits for Girls
Rainbow Ballerina Child Costume
This is more of a ballerina costume than a ballet outfit for dance class. The skirt lights up in rainbow colors! It does not include the ballet slippers or the props in the picture, it's just the dress. It has good reviews at Amazon, the customers seem very happy with the quality of this ballerina costume.
 Twinklers Rainbow Ballerina with Fiber Optic Skirt, Child's Medium
Ballerina Outfits for Girls
Ballerina Costumes for Teens
Ballerina Tutus for Ballerina Costumes
Ballet Tutus for Girls
These tutus have rave reviews on Amazon as being very high quality and they fit sizes 2-8. They start as a longer ballerina skirt and as your child grows they turn into a shorter and shorter tutu. Just slip on over a dance leotard, add a pair of tights, and you have a ballerina costume.
 Girls Chiffon Floral Tutu Princess Skirt Ballet Skirt
 Neon Pink Tutu for Girls
 Girls Ballet Tutu Red
 Dress Up Dreams Boutique 12
Ballet Leotards
Make a Ballerina Costume
Add a tutu or a ballet skirt and you have a cute ballerina costume.
 Capezio Big Girls' Short Sleeve Leotard,Pink,M (8-10)
 Danskin Little Girls' Long Sleeve Leotard, Petal Pink, Intermediate (6X-7)
 Capezio Big Girls' Princess Tank Leotard,White,M (8-10)
 Capezio Big Girls' Long Sleeve Leotard, White, Large (12-14)
Finish the Ballerina Costume with Real Ballet Shoes!
Ballerina Shoes for Toddlers and Children
 Ballet Slippers for Children
Ballet Slippers to Complete the Ballerina Halloween Costumes
These ballet slippers are the real deal, the ones they use in ballet class and they are very comfortable to wear around the house. They're leather and last a long time. I never wore mine out before I outgrew them when I was growing up and taking ballet classes.
 Dance Class B501 Leather One Piece Ballet (Toddler/Little Kid),White,4 M US Big Kid
 Bloch Dance Bunnyhop Slipper Ballet Flat (Toddler/Little Kid/Big Kid),Pink,10.5 D US Toddler
Ballerina Costumes for Teens
Ballerina Outfits for Teens
How to Dress Like a Ballerina for Halloween
Ballerina Halloween Costumes
Even before Black Swan, of recent movie fame, a lot of teens like to dress up in dark costumes. All of the ballerina costumes I found were dark themed. But a teen who wants to look like a typical ballerina can shop like real dancers do, and buy the components to put together a perfect ballerina outfit. Under the Ballerina Costumes for Women in the next section, all of the parts of a ballerina outfit are available, the leotards, ballet skirts, leg warmers, tights, and ballet shoes. Just scroll a little further.
Ballerina Halloween Costumes for Teens
Black Swan Ballerina Teen Costume
This Black Swan costume looks just like the one Natalie Portman wore in the movie of the same name. There were no reviews yet, but Amazon always makes things right if you're not satisfied, so you can order in confidence.
 Black Swan Ballet Leotard and Tutu Ballerina Costume (Juniors Small)
Ballerina Costumes for Adults
Ballerina Costumes for Women
Ballerina Costumes for Halloween
Make a Ballerina Costume
If you're an adult looking for a ballerina costume, you are going to have a hard time finding a large selection. I guess maybe manufacturers think adults all want to be funny or sexy. So if you want to dress up as a ballerina as an adult you can get a leotard and a tutu and tights and ballet shoes and put your hair in a bun and look like the typical ballerina you see in the Nutcracker or other famous ballets. Or you could dress like typical ballerinas do when they go to dance class, which is similar, but instead of a tutu, they may go with just the leotard and tights, or add a slender dance skirt in a short or long length and the ballet shoes. After class if a ballerina goes out in the cold, she might wear legwarmers. All of these clothes are useful for ballet and yoga and pilates classes or just dancing around the house. I love ballet shoes as slippers.
Ballerina Costume for Women
Ballerina Halloween Costumes
Just two of the many gorgeous and practical leotards
available for women. They come in different sleeve styles too, long sleeve, short sleeve, skinny straps, full straps. Just click to see many more.
 Capezio Women's Long Sleeve Leotard,Black,Large
 Capezio Women's Long Sleeve Leotard,White,Small
Ballet Skirts for a Ballerina Costume
Ballerina Outfits for Women
 Navy Blue Georgette Wrap Ballet Skirt Adult Size S/M
And don't forget to add Leg Warmers to Your Ballerina Dancer Costume
Ballerinas Love Leg Warmers at Dance Class and Afterwards!
Real ballet slippers are wonderful shoes to wear around the house long after Halloween is over. I love to wear them as slippers and house shoes. They're all leather, the shoe part, and the sole too. And they last for years even with constant wear. I even wear them to yoga class and around town for errands afterwards. The longer you wear them, the softer they are. Here the pink ones are shown, but they are also available in black and white. Just click to see your color and size.
 Capezio Women's Daisy Ballet Shoe,Ballet Pink,9 N US
ART FOR BALLERINA ROOMS
Ballerina Poster
Art for a Ballet Room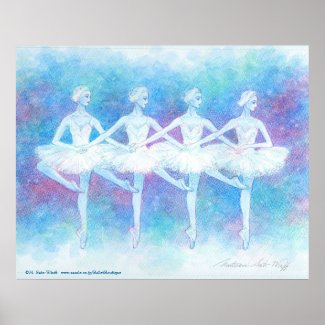 Dance art print of swan of four feathers
 by 
BalletBoutique
Find more 
famous art prints
 on Zazzle
Ballet Poster
 
Dancing Ballerina Monet Style Posters by murals
Print posters online at zazzle.com
Happy Halloween!